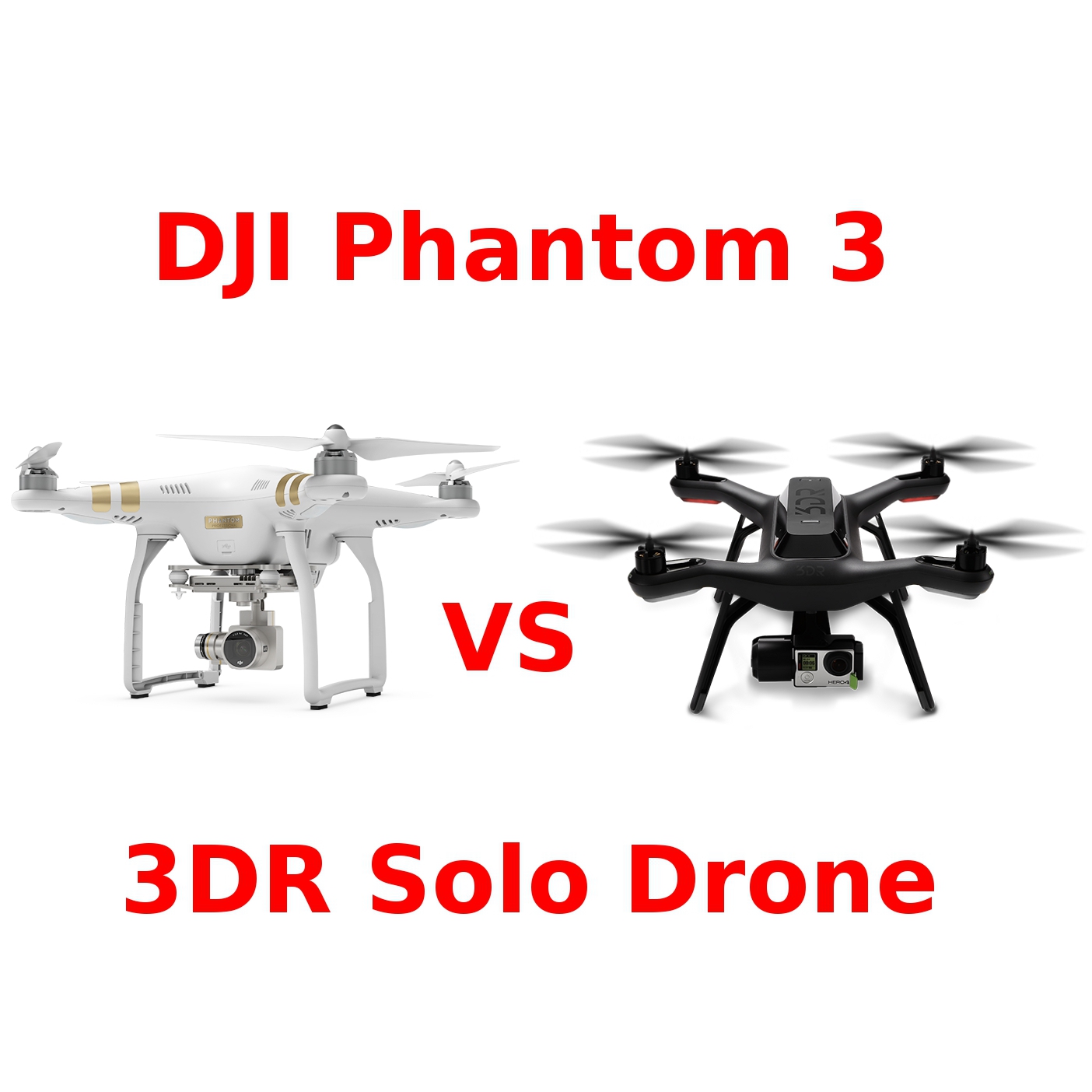 DJI Phantom 3 vs 3DR Solo Drone – This month has been quite exciting for all drone enthusiasts with new drone announcements coming from two major manufacturers, and here we are going to compare the DJI Phantom 3 versus the 3DR Solo. DJI and 3DR (3D Robotics) are undoubtedly the leaders, as far as drones are concerned and both of them have recently released specifications of their upcoming drones.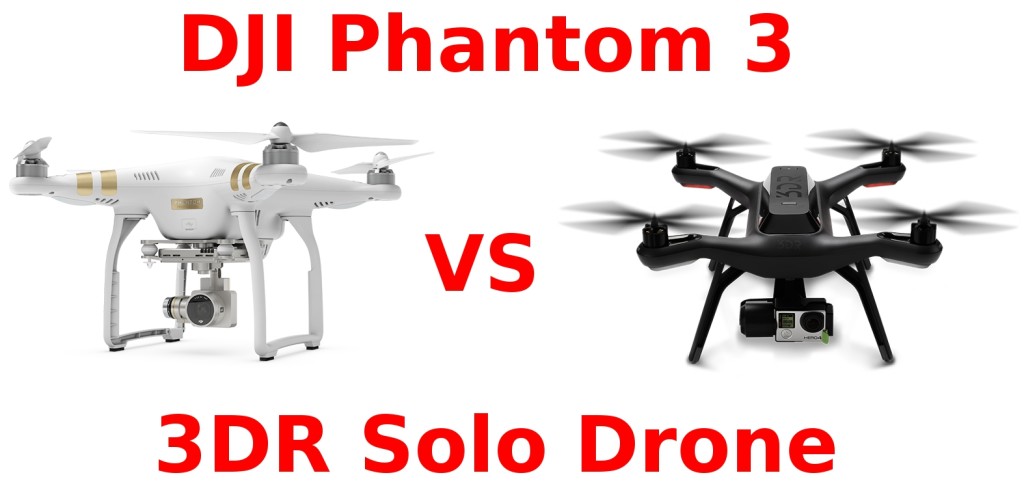 DJI Phantom 3 and 3DR Solo Drone Overview
In short, the Phantom 3 is available in two different variations; the advanced version and the professional version. The Phantom 3 advanced model records in 1080p HD, while the Phantom 3 professional version has a great new 4K camera with HD video streaming and a large array of sensors. Both DJI Phantom 3 versions come with a 12.0MP camera.
On the other hand, the 3DR Solo is the world's first smart drone and comes with a couple of 1 GHz processors, HD video streaming, full GoPro integration and pre-programmed flight paths.
Both drones have unbelievable features and can provide a great flying experience for experienced flyers as well as beginners. With both of these drones it appears that the manufacturers have begun understanding their customers better, especially as far as professional aerial images and videos are concerned.
DJI Phantom 3 vs 3DR Solo Drone: Features and Specifications Comparison
DJI and 3D Robotics, both manufacturers have begun accepting pre-orders, but the drones are not expected to be shipped before next month (May 2015). This means that we are going to have to wait for a while before we can compare flight experiences between both drones, but that doesn't mean we can't compare what we already know, right? What can we look forward to? Read on to find out…
Design – As far as the design is concerned, the DJI Phantom 3 has retained its original shape, while the 3DR Solo looks completely different from what 3D Robotics has released in the past. DJI probably has the best shaped drone in the business and there is absolutely no reason for them to change it. The Solo is surely an improvement, as far as design is concerned, over the previous 3DR IRIS+.
Flight – The Phantom 3 still offers the standard twenty three minutes of flight time. The Solo has managed to bump its time to twenty minutes, even with the camera. Both battery systems track the battery at all times and lets users know when charging will be required. As mentioned earlier, we won't know too much know about the flight characteristics of these drones until they are released. Although it's only fair to say that the Phantom 3 is going to be better at low ground flying, because of its optical-flow sensor. In terms of range, the 3DR Solo can go up to a distance of half a mile, while the DJI Phantom 3 can go a whole mile.
Controller – 3DR has made huge strides as far as user-friendly controllers are concerned, and while both controllers have a terrific design, it is the Solo's controller that is more functional. Both controllers come with mobile holders as well, but it is the built-in-computer of the 3DR Solo's controller that really steals the show. You can even use it for streaming directly to external screens through its HDMI port.
Camera – Both manufacturers have gone through tremendous lengths, as far as the camera features are concerned. After all, aerial photography is one of the major reasons why people buy these drones. The 3DR Solo now has a 3-axis gimbal, although it is optional and not part of the standard model. But, while the DJI Phantom 3 gimbal can only be used with the pre-installed camera, the Solo's gimbal can be used with just about anything. Both devices can now record 4K video at thirty frames per second. Both have excellent 12.0MP cameras for still shots.

They can also be used for live HD streaming. And when it comes to camera control, both of these drones set remarkable new standards. Both drones let the users start and stop videos while in flight, which saves them from trimming through a lot of unwanted footage. They both offer custom control of the camera. The videos available online from the DJI Phantom 3 camera look much better than the videos available online from the 3DR Solo, although it is speculated that the Solo models used were pre-production drones and that the actual product will have much better quality.
Price – This is the last and probably the most hotly debated comparison point between both drones. The DJI Phantom 3 advanced is priced at $999 and the professional version is priced at $1,259. The fully featured 3DR Solo costs around $1,800. With the 3DR Solo, you will first have to get the drone for around $1,000. Then you will have to get a gimbal which costs around $400 and a GoPro which can cost anything in between $200 and $400. Basically, in terms of price, the DJI Phantom 3 is obviously the better choice out of the box. But until a few months pass and both drones have been thoroughly tested, you can't really say which drone gives better value for the money.
DJI Phantom 3 vs 3DR Solo: Which One is Better?
At the end of the day, the DJI Phantom 3 looks the most probable choice for customers that are just looking to get started out of the box. But in the long run, the 3DR Solo may just be the better choice, since it runs on an open source platform with lots of scope for future expandability. So what's the verdict? Well, as far as the DJI Phantom 3 vs 3DR Solo is concerned, I guess we'll just have to wait for a few weeks before passing a verdict on which drone is at the top of the pile.