Let's take a look at the DJI Mavic Pro review. The DJI Mavic Pro is a compact, yet powerful drone carrying one of the most sophisticated flying cameras ever. With up to 27 minutes of fight this drone is priced under $1,000. Continue reading our Mavic Pro review and see why this is one of our highest rated drones.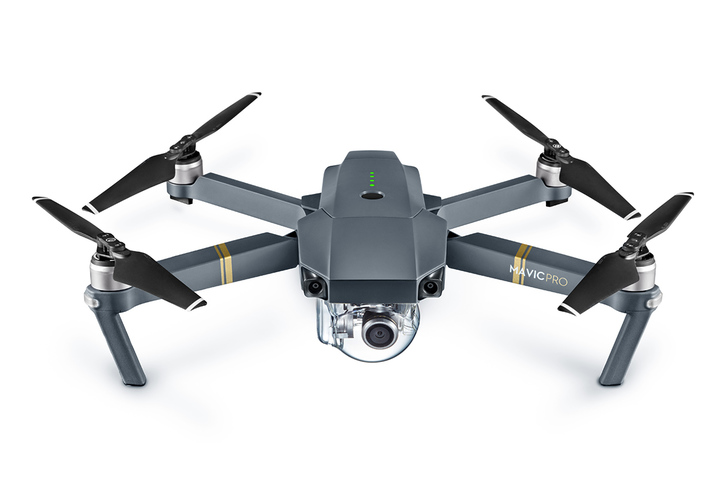 DJI has an excellent reputation for creating drones and quadcopters, and the DJI Mavic Pro does not disappoint. They have thought of both practical features and updated technology to enhance photography or videos. The Mavic Pro is a good choice if you are a beginner. It is easy to fly and you'll find the instructions are right in the box, there is no searching a website to download a PDF.
The DJI Mavic Pro drone has a 4 mile flying range and you can remain up in the air for 27 minutes. If you want to take photographs by the ocean, on a hike in the mountains or if you want images of the city skyline at sunset, this is one that will capture everything for you.
You'll be pleased to notice that this Mavic Pro drone is quite compact. So, when that stunning location you've been longing to photograph or video is a day or weekend trip, bringing it along is far simpler than with others you might look at. One feature to check out is the fold-able arms, which not only makes it even more compact, but also protects them from any damage when traveling or storing it. Quite a few drone owners complain about accidentally damaging their drones, so it is great to see the DJI Mavic Pro proactively thinking about how you will use it.
The DJI Mavic Pro in our review can also be flown using technology through your cellphone. There is no need to always bring the remote with you. Why, this is yet another way this drone is compact and efficient for the user.
DJI Mavic Pro Review: Full Features
A powerful OcuSync transmission has a great range of 4.3 miles. You have up to 27 minutes to fly your drone, at a maximum speed of 40mph. The DJI Mavic Pro can go where you want it to and have plenty of power for a return trip, or even another flight while you are out.
Get professional looking video with every shot, with "smart" features including ActiveTrack, True 4K and TapFly. At the price of this DJI Mavic drone, this is a top-notch feature to see. Whether you are a beginner or a more advanced drone user that wants great images.
The DJI Mavic Pro folds in to be the size of a bottle of water. Whether you are carrying it to a place to fly or storing it in your home, it takes minimal space. Perfect to bring on your family vacation, hike or even camping trip.
Be confident your Mavic Pro drone will avoid any obstacle, with sensor redundancy and Obstacle Avoidance. Do keep in mind: this works best when the drone is going forward, it is not a feature that works when it is in backwards mode.
You can fly and land to specific places with the ability of vision positioning. The DJI Mavic Pro review also had a look at the drone's GPS and GLONASS that make every flight precise. Land on the top of a building or near the water's edge with no worry of tipping over.
Intuitive and sensitive controls react with the tap or touch of your finger. Even those new to flying drones feel comfortable putting this one in flight.
With Absolute Precision Flight Autonomy technology, the DJI Mavic Pro has the ability to hover in an exact place. With this feature you also can land your drone right where it took off from.
While the DJI Mavic Pro drone is small and compact, it takes beautiful and professional quality photos and videos. The Mavic Pro has a high-precision 3-axis mechanical camera stabilization system, so there are no "shaky" or hard to see images.
Price of the DJI Mavic Pro
At the time of this review, Amazon.com sells this drone for $849.00.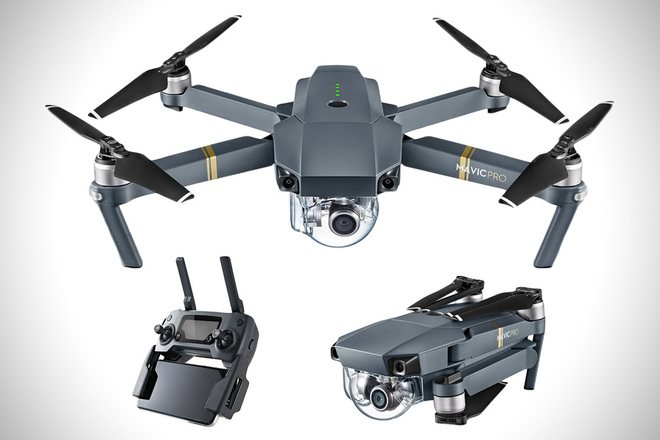 DJI Mavic Pro Overview: Characteristics and Specifications
Size: 11.4″ x 7.1″ x 9.4″ inches
There is a warranty available for the DJI Mavic Pro
Amazon star rating: 4 1/2 stars (797 customer reviews)
Editor's Final Words on the DJI Mavic Pro Review
As any drone lover can see, the DJI Mavic Pro provides high value for the money that you spend. It is made with high quality, it offers both top technology and excellent materials. DJI is also a well-known drone company. If you are looking for a drone to create aerial photography and videos, this is a budget friendly one to choose. Let's look at our price comparison chart to see other drones that offer similar features:
DJI Phantom 4 Pro Drone, Hobby RC Quadcopter & Multirotor $1253
Walkera VITUS 320 5.8G Wifi FPV Quadcopter Foldable $974
Autel Robotics X-Star Premium Drone $1,268
Swellpro Waterproof Splash Drone 3 $1699
Yuneec Typhoon H Pro with Intel RealSense Technology $1499
The DJI Mavic Pro is $849
Note: Prices may change. These were the prices at the time of this review.
Through our price comparison, we can see that the DJI Mavic Pro review is the best choice of the group. Take a look at the features this drone offers, as you make your final decision. Some things to consider, include; the DJI Mavic Pro is an especially good option if you are a beginner and it is terrific for taking aerial photography and video.
The DJI Mavic Pro is a drone to keep in mind as a great gift idea, for that family member or friend who's been curious about drones, but has not tried it yet. A strong transmission gives you a long flying time and the ability to be in the air for a 4 mile distance. Get great photos and videos with the DJI Mavic Pro and enjoy your latest adventure.