Here is a detailed and un-biased review of the Cheerson CX-20. The Cheerson CX-20 is a full size quadcopter that's in direct competition with other full size models, like the DJI Phantom 2 Vision+, DJI Phantom 2, Parrot Bebop, 3DR IRIS+, Blade 350 QX, and others. It's priced at right around $360, which makes it a lot cheaper than most of the other full-size options. Even the Parrot Bebop, which is very basic with its feature set, is priced higher at $500! So you're definitely getting a good deal here, in terms of features, product quality, and price.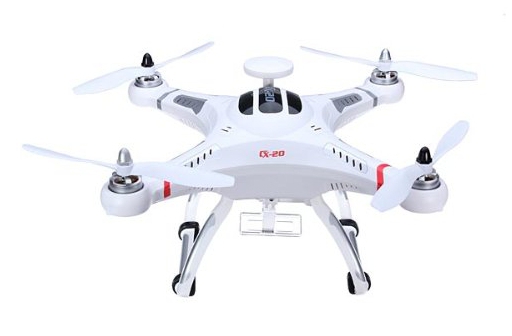 The Cheerson CX-20, as stated independently by people who actually own one, is not designed for beginner pilots. You could quite easily crash the Cheerson CX-20, damage it badly, and be out the $360 dollars you paid for it.
It makes a lot more sense to purchase a smaller and less expensive drone to practice with first, improve your flight skills, and THEN purchase a more expensive quadcopter like the Cheerson CX-20, once you're more comfortable piloting.
Below, we're going to take a closer look at exactly what this Cheerson CX-20 review has to offer:
Cheerson CX-20 Quadcopter Review: All Features
300 Meter Control Distance / 300 Meter Altitude Ability – 300 meters is a respectable distance and altitude for a quadcopter. Competing models, like the DJI Phantom 2 Vision+, have a 500-700 meter control distance, which is further than the Cheerson CX-20, but you have to take into consideration that the Cheerson CX-20 only costs 1/3 what the DJI Phantom does.
15 Minute Flight Time / 2 Hour 2700mah 20C 3c Battery Charging Time – A total of 15 minutes of flight time (according to each battery charge) is right on par with other full size drones, like the DJI Phantom 2 Vision+ (15 minutes flight time), but in a price comparison, the Cheerson CX-20 is much more affordable and a better "bang for your buck".

Couple this with the fact that the 2700mah 20C 3c battery only takes 2 hours to charge, and you can have all day fun if you've got a multi-port charger and multiple batteries to work with.

22 MPH Max Flight Speed – 22 MPH is quite fast, especially to the naked eye. The Parrot Bebop flies at about 31 MPH, to give you a comparison regarding drones in the same class as this Cheerson CX-20 we're reviewing.
Return To Home Function – Like most full-size quadcopter drones, the Cheerson CX-20 is designed to automatically return to its original take off position through simply pressing a button on the controller. This easily prevents any crashes that could be caused by beginners who don't know how to land their quadcopter like an expert yet.
Fixed Position Hover, Altitude Hold, Auto Landing Failsafe – The Cheerson CX-20 has the ability to hover in a fixed position with the flick of a switch, maintain a steady altitude to make video recording easier, and when the battery gets low, it will automatically land, in order to prevent a spent battery crash.
GoPro Camera Compatible – Hooking a GoPro camera up to the base of the Cheerson CX-20 allows you to capture stunning video and audio files you can upload to the Internet or save on your PC/smartphone. There's multiple GoPro camera options you can choose from, but there's not a GoPro camera included in the box, as it's sold separately.
Intelligent Orientation Control (IOC) – In case your CX-20 goes into a spin, you don't have to worry about losing control of it. Through the Intelligent Orientation Control system, the CX-20 will always propel itself in the direction you push the controls. This makes it easy to recover from a spin and set the CX-20 straight again.
LED Light System – Under each arm of the Cheerson CX-20, there's a powerful LED light that alerts you to which way the quadcopter is pointing. So, in total, there's 4 bright LED lights to make the CX-20 visible at night and guide your way.
Final Notes and Ideas On The Cheerson CX-20 Review
As stated earlier in our Cheerson CX-20 review, it has everything you could want in a full size drone with a cheaper price tag than every one of the competing drones in its class. Take a look at this price comparison chart to see just how much more affordable the Cheerson CX-20 really is:
Parrot Bebop: $500
DJI Phantom 2 Vision+: $1,169
3DR IRIS+: $725
Blade 350 QX: $470
Cheerson CX-20: $359
Note: Prices may change. These were the prices at the time of this Cheerson CX-20 review.
So, as you can see, the Cheerson CX-20 is the most cost effective option. Do the job of comparing features to price with other drones you're considering, and that will make it easier to come to a final decision, as to whether or not the CX-20 is actually a good option for you.
A really cool quadcopter activity is to hook up laser pointers to the base. You can rig the laser pointers up to be constantly on. Finding a way to keep the laser pointer button pressed down, as well as a way to release it when you land (to conserve batteries, safety, etc), is your job to figure out.
Also, you could find a way to drop glitter from the Cheerson CX-20 and really put on a fantastic show for your friends. You're limited only by your imagination when it comes to creative ideas on how to have fun with your Cheerson CX-20 quadcopter.
Feel free to comment if you own one of this drones or if you have any comments about the Cheerson CX-20 review.