To make your life easier, we've narrowed down some of the best drones in the market, and would like for you to check out this Blade Nano QX2 FPV review! The Blade Nano QX2 FPV is an upgraded version of its predecessor Nano QX. With features and characteristics, we're excited to dive right into the good stuff, and discuss the new and improved additions.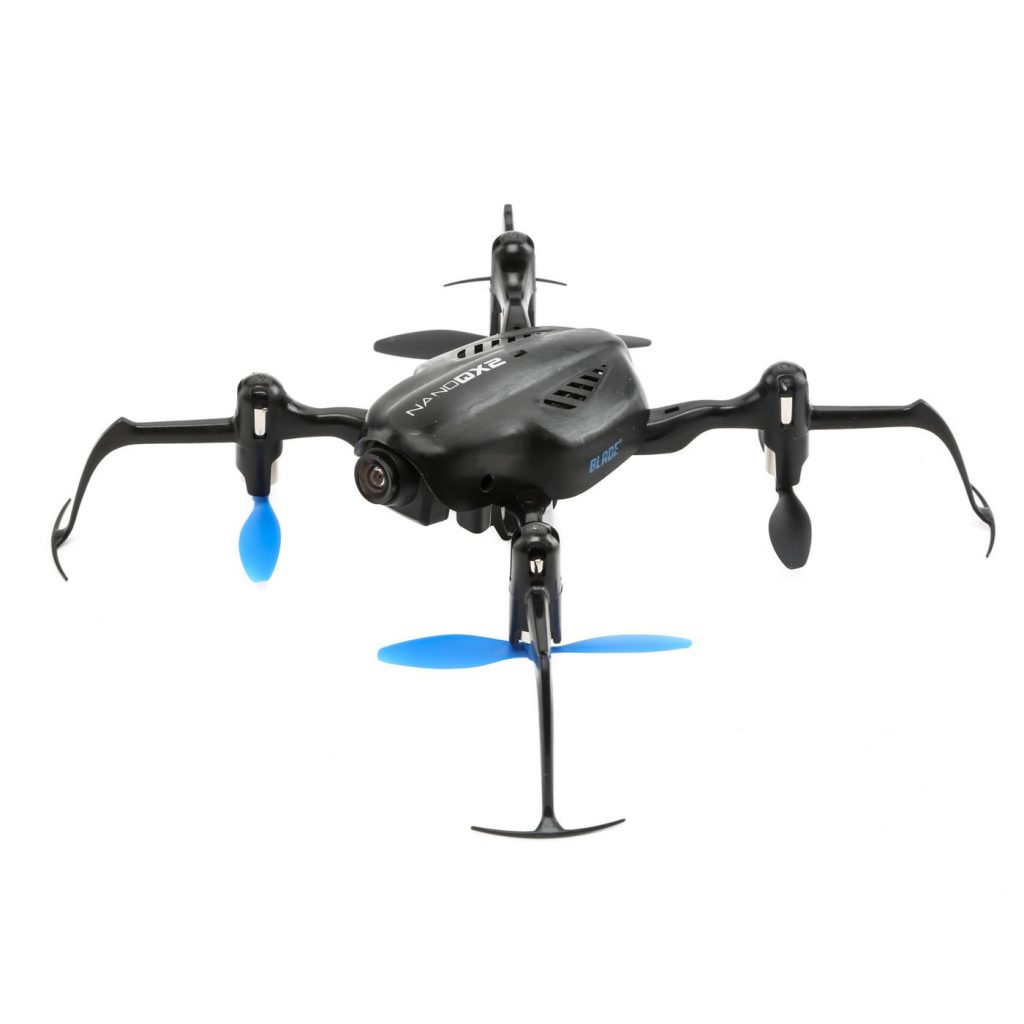 What's really a neat thing about the Blade Nano QX2 FPV is the fact that it offers both a beginner mode and an agility mode. Although it's a plus for those who are just starting out, beginner drones aren't always the most fun as they can lack certain benefits that allow you to fly more freely. The agility mode gives advanced flyers, or those who are ready to move past beginner mode, the ability to fly freestyle with more technique.
Blade Nano QX2 FPV: Drone Comparison
These features and specifications have been adjusted or improved from the predecessor model QX. Here are a few things that we find different in much better ways:
Adjustable Camera – For secure, yet optimal viewing, the FPV flight camera allows for 15 degrees of flexible movement, both up and down, while remaining locked into place.
Battery Time – The life of the battery has been improved so you can get 6-8 minutes of uninterrupted flight time. A 15 Li-Po charger is included so that you can plug into a convenient USB outlet or port.
SAFE Technology – Defined as (Sensor Assisted Flight Envelope), SAFE technology helps to keep you in control for an easy flight. This protection system syncs with your flight modes, so that you can switch over at any time without having to worry about losing control.
New Look – The new design is not only fierce, but it features a durable airframe that is tough, yet lightweight.
Blade Nano QX2 FPV: Other Features & Specs
Ultra micro 500mAh 1S 3.7V 25C Li-Po
Channel selection button
Maximum of 7 5.8GHz FPV systems flown at once
25 mW micro FPV camera system
Suggested Additions to the Blade Nano QX2 FPV
To become the flying master that you dream of, we suggest you upgrade with additional flying features, such as headsets to complete your ultimate drone package. Even as a beginner it's important to enhance your flights so that you can quickly learn how to manage your drone, and develop better flying skills to adapt to different drones as you grow your collection. Let's browse our options for additions like headsets and transmitters that match well with the Blade Nano QX2 FPV.
Spektrum Teleporter V4 – This video headset is complete with head tracking and pairs especially well with the Spektrum DXe Transmitter.
Fat Shark Attitude V3 – This headset has a modular RF design and features 3D support. It's a step up from the Spektrum Teleporter V4 and makes the perfect set when bought with the Spektrum DX6 6-Channel DSMX Transmitter.
Spektrum Focal – This FPV headset is conveniently wireless and is our first choice! For the best of the best, we suggest you go all out with the Spektrum DX9 9-Channel DSMX Transmitter.
Each of these are different from each other and offer the flyer something unique while flying. If you're looking to save some money, then opt for the Spektrum Teleporter V4. Or you could mix-and-match and go with a more advanced transmitter while sticking to a basic headset. The choice is up to you!
The Blade Nano QX2 FPV starts at about $99 for the Bind-N-Fly model. Shop for the best price for this beginner drone here! ( https://www.google.com/#q=blade+nano+qx2+fpv&tbm=shop)