Dive deep into this Blade Vortex 250 Pro review to get all the information you need on buying a new drone with unbiased opinions. We want to make sure you get the facts, and important features and specs for your Vortex 250 Pro drone! Read more to find out why this drone might be your next addition to your collection: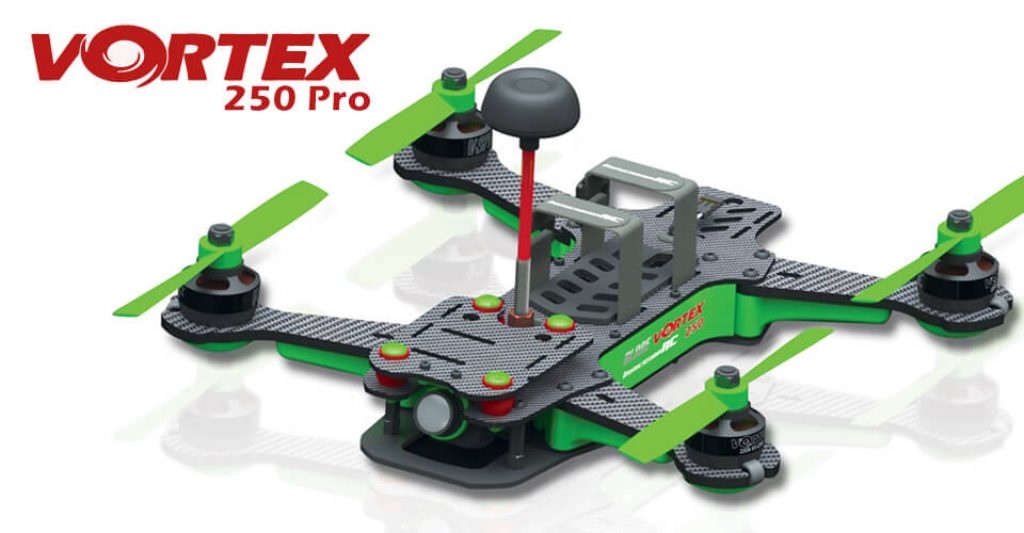 The Blade Vortex 250 Pro really doesn't mess around. Highly approved for those with experience and an urge for racing, the Blade Vortex 250 Pro is labeled "Pro" for a reason! Built with Bind-N-Fly convenience this drone has superior Spektrum Technology and is ProTuned for FPV racing. And, even if you're not that big into racing, you'll surely appreciate the power of its punch. This drone is light, fast, and built to last! Let's take a closer look at some of the features and specs it comes with this Blade Vortex 250 Pro review.
Blade Vortex 250 Pro Review: Features and Specifications
32-Bit ARM Processors – Unlike other mini-quads in the market, this drone features SEVEN 32-Bit ARM Processors!
CleanFlight – The Fusion F3 flight controller comes equipped with CleanFlight firmware to help make your drone ready to fly out of the box.
Wireless Video Compatibility – To makes things even easier, this drone can connect to any 5.8 GHz A/V headset. The NexWaveRF 5.8 GHz video transmitter has 40 channels of support.
Multiple Camera Choices – This drone is capable of handling both a flight cam and a video recorder. Even better a FatShark 700TVL v2 CMOS flight camis fully protected by a carbon-fiber plate.
LED lights – These lights can be fully programmed to the color of your choice! You can also program your turn signals, brake lights, and other light signals for communication purposes.
BlackBox Recorder – This drone comes with two megabytes of flash memory.
Full-Graphic OSD (On Screen Display) – Screen-Center alerts warn you of important information, such as when your battery is low. Try out the real-time interface for artificial horizons.
ProTuned – Preloaded firmware helps you fly as if you're gliding on guided railings. It's almost too good to be true!
Pricing starts at about $500, which for the quality and durability of this drone, is really not that bad at all. You're getting a high quality drone with a low price tag. The technology that comes inclusive on the Blade Vortex 250 Pro is really top-of-the-line, and even though it's made for experienced racers, it's just an overall superior product for any flyer. We would suggest this Blade Vortex 250 Pro review for those who are looking for more power, speed, and advanced technology.
The details of the structure itself on this Vortex 250 Pro drone are really impressive. From top to bottom you can really tell the difference in a quality made drone compared to other beginner drones with less features and technology. The Blade Vortex 250 Pro is built with a 2mm top plate, 2mm bottom plate, and 2mm FR4skid plates. For extra support carbon fiber motor arms are 4mm thick to prevent twisting in the air and collapsing on the ground. It's all-around tough and ready to go right out of the box! That's why we suggest leaving this for the pros since it has such a powerful build, it can be a bit overwhelming for those who are not used to flying such a strong machine.