It's time you become the professional photographer you've dreamed of, and learn everything you need to know with this Blade Chroma Camera Drone review to help you get started on the right track! Don't waste time trying to compare all the drones to this one, because we're giving you everything you need to know about the Chroma Camera Drone in one spot!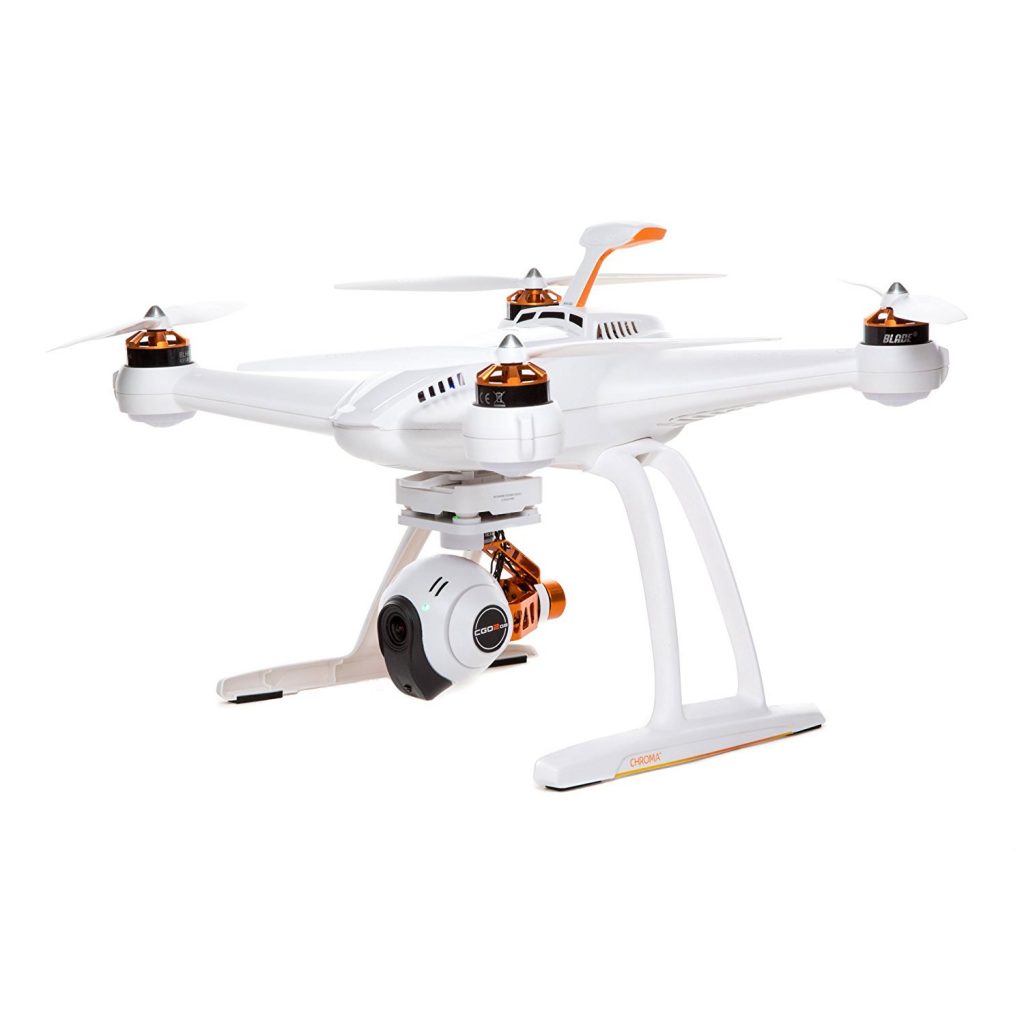 Stop throwing money away by hiring photographers for every event, and start capturing memories of your own by becoming a master camera drone flyer! This Blade Chroma Camera Drone catches all the action for you with a steady and easy ride. We think it's perfect for anyone who is trying to make their own videos and get into the drone flying business.
The Blade Chroma Camera Drone is definitely an investment, and will set you back approximately $800, but is still slightly cheaper than similar drones of this kind.
Blade Chroma Camera Drone Characteristics and Specs
Easy To Maneuver – The Blade Chroma Camera Drone is designed so that it's easy to fly and gets all the trickiest camera angles for the best shot.
Complete Package – It comes with everything you need all in one package, so that you're not left shopping around for a transmitter.
No Smartphone Needed – What's really fantastic about this drone is that you don't need a smartphone to sync to. It has everything you need already connected to the ST-10+ touch screen controller available.
Available in both 4k and 1080p camera options, you can decide which Blade Chroma Camera Drone Review is the best for your flying preferences. They're both marked at the same price regardless of the camera, but you can probably keep shopping to find a better price.
There are also two other options available if you prefer to use your own Go-Pro instead of a built in camera. There's the Chroma with 3-axis Gimbal for GoPro, or the Chroma BNF with fixed GoPro mount. Either of the two are ideal, but the BNF sells the radio and 3-axis Gimbal separately, so that's going to cost you a bit extra and more time shopping.
Now let's get back to that controller! The available ST-10+ touch screen controller allows you to see everything that the camera is seeing right from the palm of your hands. Flight and camera controls are conveniently located at your fingertips for easy steering and switching. Most other drones rely on a smartphone or even a tablet device to connect for live viewing, but this one is available with a controller that conveniently has all that in one place, and helps you fly while you are trying to focus on the best shot!
Blade Chroma Camera Drone Review: Additional Features
Smart Mode– This mode is perfect for first time flyers because it uses Stick Relativity to ensure precise driving, while also enforcing the SAFE circle which prevents you from getting too close to others.
AP (Aerial Photography) Mode– We would suggest this mode for the more experienced flyers. AP mode performs without SAFE Circle or Stick Relativity, so it's a little more difficult to fly the Blade Chroma Camera Drone if you're new to this game.
Follow Me Mode– This mode allows you to set a distance and altitude so that it follows you around while you find the perfect shot.
Tracking Mode– Say goodbye to selfies! This mode holds the camera pointed directly at the person controlling the movement. This is prime for those who travel alone and want to get images without having to ask others to do it for you.
If you're interested in aerial photography, then we suggest you invest in a drone such as the Blade Chroma Camera Drone. Especially since it offers differing modes to help you adjust to your level of experience, and yet still produces quality photography for a decent price.