Aerial drones like the Blade 350 QX3 seem to be the all-around crowd favorite when it comes to having fun with technology these days. Nearly everyone alive loves to see awesome photography, and through flying the Blade 350 QX3 for sale, which comes with video photography ready (camera not included), now capturing visually stunning images from an airborne perspective is something every man, woman, and child can accomplish!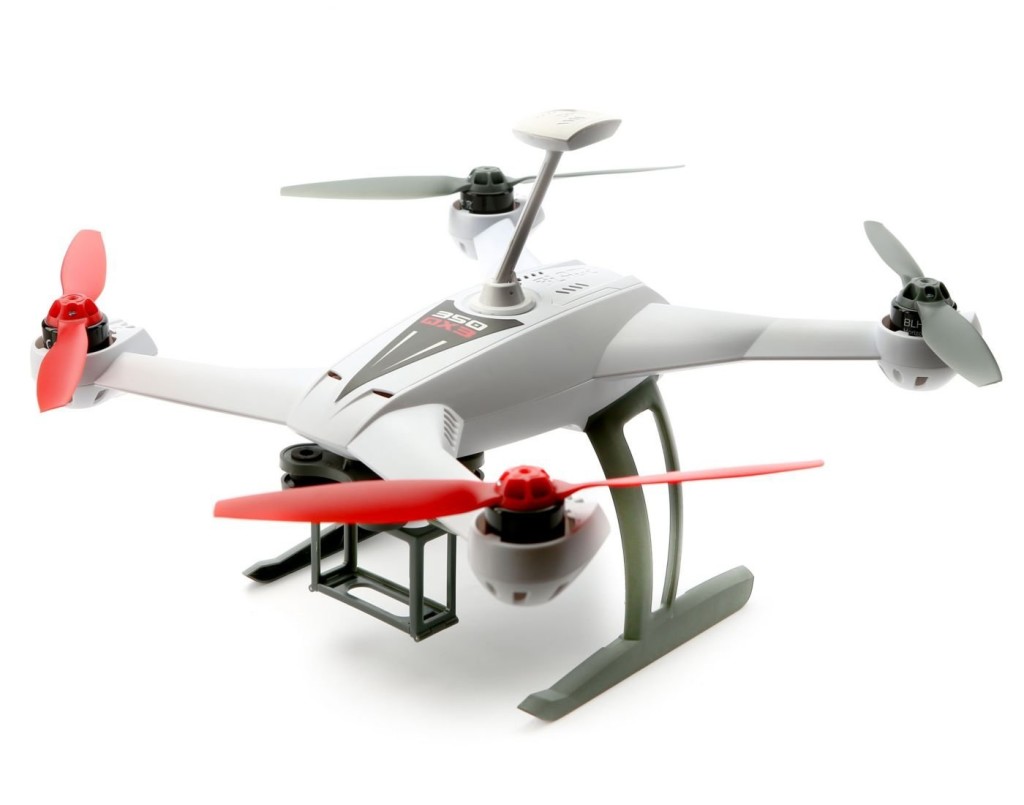 Although the aerial drones we're seeing released aren't incredibly spectacular as far as flight times, durability, and camera quality goes, they're still a heck of a lot of fun to use. They're giving us a taste of what future quadcopter technology will be like, and improvements we can look forward to.
Blade 350 QX3: Competing To Be The Best Out There
There's more than one aerial drone option available for sale, from different companies, all competing to be the best recreational quadcopter out there. Each of the drones we've been seeing that are in competition with the Blade 350 QX3, have different price tags based on how developed the features are, such as; flight time, build quality, camera quality, performance, etc. The higher the price tag, the better the feature set, generally speaking.
The Blade 350 QX3 is a great all-around drone, made from a great company. Below, we're going to be reviewing the best price on the Blade 350 QX3 and exactly what it has to offer. You can then make direct comparisons with other quadcopters to see which aerial drone option will fit you best, understand how you'll be able to use it and whether you should buy it.
Blade 350 QX3 Features and Specs Review
Modes Of Flight:
Smart Mode: Smart Mode is appropriate for beginner drone pilots who are still practicing their skills. Smart Mode makes a great preparatory phase to work inside of, in order to become skilled at 100% freedom of flight that we describe in the next mode below.
</ br>
As an example, let's say the Blade 350 QX3 is in a reckless spin. In Aerial Photography Mode, the pilot might lose control. But with Smart Mode, turning the controller joystick to the right, will still make the drone turn right, instead of forcing the drone pilot to be ABLE to correct the flight path inside the spin-out. This feature is called Stick Relativity.
Aerial Photography Mode: This mode allows more experienced 350 QX3 quadcopter pilots to showcase their skills. Aerial photography mode operates without the inclusion of Stick Relativity, like we see in the Smart Mode listed above. The Blade 350 QX3 pilot is in complete control in Aerial Photography Mode, with no programmed "flight coaching" help associated with the flight.
Return Home Mode: The Return Home mode is a quick and easy way to automatically get your Blade 350 QX3 back to the original starting point. Generally, it will land within a few meters of the original take off position. People who aren't skilled in landing drones will be appreciative of this feature if they buy the Blade 350 QX3.
Additional Flight Modes (Expert Level): After training for a respectable time with your Blade 350 QX3, your flight skills can be used to enter one of the additional programmed flight modes, called; Stability and Agility mode. These modes are expert level modes, and should only be used by highly experienced drone pilots.
SAFE Circle Flight Boundary System:
Inexperienced drone pilots may make the mistake of accidentally flying a quadcopter too close to them or running the quadcopter directly into them. This type of collision risk is easily eliminated, thanks to the SAFE Circle Flight Boundary feature of the 350 QX3.
Out of the box, the boundaries are preset to 100 meters from, and 50 meters above, where the motors were initially started. You can also reprogram the boundaries easily, using the included programmer.
10-15 Minute Flight Time: The Blade 350 QX3 provides a respectable flight time of 10-15 minutes. This is plenty of time to go sightseeing throughout the day. Based on the price tag of the Blade 350 QX3 on sale, this is a pretty generous flight time for the money.
E-Flite® 3S 3000mAh 11.1V 30C Li-Po Flight Battery: The battery on this Blade 350 QX3 drone uses state of the art technology, which not only allows the drone to pack a respectable amount of flight time into a single charge, but also ensures a long life of charging/recharging without any degradation in battery quality.
8 GB Micro SD Storage Card: The included Micro SD card allows you to save video and still shoot images, so you can have them on hand for later usage. You can also buy additional Micro SD cards with larger capacities to really get the most out of the best priced Blade 350 QX3.
5.8 GHz Wi-Fi Link For iOS/Android: Pairing this quadcopter to your iOS/Android smartphone gives you additional transmitting ability in addition to the transmitter controller that comes with it. Using your smartphone, you can calibrate, update firmware, and view sensor information about the Blade 350 QX3.
Spektrum DX4 Transmitter: The Spektrum DX4 is one of the latest and greatest designs being offered to control recreational aerial drones. It's full featured and responds well to hand held control, and is a highly affordable option. It comes with the Blade 350 QX3 in the box.
How The Blade 350 QX3 Compares To Other Drones
When compared to the likes of more expensive recreational class aerial drones, the 350 QX3 is, of course, a lower class competitor. Drones like the DJI Phantom 2 Vision+, which is priced at around $1,100, provides 25 minutes of flight time per charge.
The Blade 350 QX3 only provides between 10-15 minutes of flight time, but costs considerably less, at a cost of about $470. Basically, extreme drone enthusiasts would prefer the longer flight time of drones like the DJI Phantom 2 Vision+, but the best price to feature comparison between the Blade 350 QX3 and other drones is what you really need to consider.
Look at it like this, quadcopters are a lot of fun and the batteries don't take very long to recharge. Also, you can easily buy additional batteries for about $40-$50 each, in order to extend flying times throughout the day. So basically, be sure to consider this fact before you "shell out" the extra hundreds of dollars for a higher class quadcopter.
If you buy extra batteries with the Blade 350 QX3 for sale, and keep them all charged, the problem of too short of a flight time using the original single battery is solved!
Helpful Tips & Tricks To Help Beginner Drone Enthusiasts Out
Purchase and Use a Prop Balancer & Prop Guards: Prop guards can prevent prop damage in the event that you bump your 350 QX3 into something or someone. However, prop guards won't save your props in the event you smash into a tree at high speed.
</ br>
A prop balancer ensures that your props are always spinning with perfect precision. An unbalanced set of props don't perform nearly as well as ones that are properly balanced, and balanced props spin more efficiently, which saves battery life.
Be Responsible with Your Drone Flying: Even though the Blade 350 QX3 is a recreational drone that's fun to fly around, it can get you into big trouble if you're not careful. People have flown their quadcopters into other people, incurred lawsuits, as well as trespassing issues. In addition to that, the FAA requires that you fly your drone below 400 feet at all times.
Be sure to read up on how to safely fly your aerial drone without breaking any laws, as well as how to fly the Blade 350 QX3 drone without crashing it or damaging it.