Very similar to the standard S800, the DJI Spreading Wings S800 EVO review is about a drone that it's a bit more expensive and has a bit of a different feature set. One of the main differences between the S800 and the S800 EVO for sale is the propeller arms. The S800 EVO arms are designed to be stronger in flight, and provide you with a bit more durability than the standard S800. Read the full review before you buy the S800 EVO.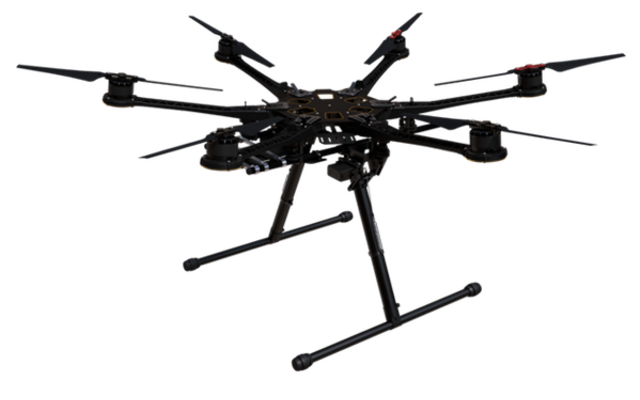 Now, it's important to note that there's quite a price difference between the S800 EVO and the S800, with very little differentiation in the actual feature set. Many people have commented in forums, on YouTube, and through first hand experience, that the S800 EVO for sale simply isn't worth the extra $1,000+ it costs over what the S800 does. And to tell the truth, all of us at DroneExaminer.com think it's true as well, that the S800 EVO is way overpriced when you get a chance to examine what it's actually offering VS the S800 standard.

Below, we're going to review and outline the feature set of the Spreading Wings S800 EVO. Don't get us wrong, we aren't saying the S800 EVO is a bad hexacopter, as it's actually quite amazing, it's just that the price tag on this drone is OVER A THOUSAND DOLLARS more than the standard S800. And it isn't offering much that sets it apart from the S800 itself. Quite a steep price increase, especially when it's based on very little in terms of actual performance/feature improvement.

Here's the feature set for those who are still interested on the full unbiased review of the S800 EVO drone:
DJI Spreading Wings S800 EVO Review: Full Features and Specifications
Six 400 Kv '4114' Motors And Six 15″ Foldable Carbon Fiber Propellers – The motors of the S800 EVO are designed to be highly efficient, with heat sinks and a forced air induction system keeping the motors cool. They're also designed to operate at a much lower Kv than smaller aerial drones (400 Kv as opposed to 3000 Kv), giving them loads of raw torque and power. The DJI Spreading Wings S800 EVO is a superb payload carrier.
</ br>
The 15″ foldable carbon fiber propellers provide a maximum total thrust of 2.8 kg each. Each of the 6 propellers weigh 13 grams. It's a great combination of both light weight and heavy-duty power.
6s LiPo 10000 mAh Battery – Li-Po battery technology is taking the aerial drone copter scene into brand new heights. In years past, battery technology like Ni-Cad was top of the line. Li-Po is much more efficient, delivers a much stronger power "punch", and offers longer flight times.
2.4 GHz DJI Lightbridge Video Downlink – The patented DJI Lightbridge technology provides you with continuous 2.4 GHz video downlink transmission, and delivers crystal clear video footage across the control distance of 1.7 kilometers.
Multiple Gimbal, Camera, Transmitter, and Flight Controller Support – With the DJI Spreading Wings series of aerial drones, you can mix and match cameras and gimbals from different compatible manufacturers. Each camera and gimbal has their own unique characteristics, and thus, it delivers a video footage experience that's unique to the cameras and gimbal manufacturer/model combos you choose. The transmitters and flight controllers are also unique, and you'll discover how they each change the way the S800 EVO behaves in the air.
Some compatible cameras, gimbals, transmitters, and flight controllers that work with the S800 EVO are:
Cameras: A few of the available compatible cameras you can use, include; the GoPro Hero 3, Canon 5D, and Canon EOS Mark III. There's a lot more cameras compatible with the S800 EVO than this, and you can save a lot if you shop around.
</ br>
There's also First Person View (FPV) goggle systems you can buy to add even more ability to the Spreading Wings S800 EVO. FPV goggle systems like the FatShark Atttitude V2 work just fine with the S800 EVO.
Gimbals: Some compatible gimbals that work with the best priced DJI S800 EVO, are; the Z15-5D Zenmuse, Zenmuse Z15-GH3, Tarot T-2D, and more.
Remote Transmitters: The Immersion 600mw transmitter is a great choice for the S800 EVO, as is the Futaba 14SG.
Flight Controllers: Compatible flight controllers you can use with the DJI Spreading Wings S800 EVO include the WooKong-M and A2. There are other compatible options too, and they're for sale all over the Internet. The WooKong-M comes with auto-pilot features you should learn about and explore if you're in need of using it.

Vibration Absorber Kit – Vibration is a major issue when you're operating aerial drones. Because most aerial drone propellers and the motors are so close to the camera/gimbal, if the design of the drone isn't "up to par", vibration issues can ruin video footage quite easily.
</ br>
The S800 EVO is designed to be extremely camera friendly, and automatically prevent any form of distortion/vibration/hiccups in footage. Video capture with the DJI S800 EVO is always crystal clear, velvety smooth, and error free, thanks to the vibration absorbing components.
Silicone Rubber (SR) Wires – The silicone rubber wiring gives the S800 EVO an added element of durability. The silicone wires are nice and thick, and aren't prone to breakage, rotting, or overheating. The wiring schematic of the DJI S800 EVO is also quite impressive, with each wire tucked away from any internal danger/conflict.
Retractable Landing Gear – Portability is a major selling factor with people that purchase the DJI Spreading Wings S800 EVO. The retractable landing gear stays well out of the cameras field of vision when retracted in the air, and allows you to stay portable with it when you need to travel.
Foldable GPS Bracket – Even the GPS bracket that comes with the DJI S800 EVO folds away to ensure you get the very best in portability. With multiple foldable parts on the S800 EVO, it can fit in tighter spaces and create less of a space burden when packed in a vehicle for travel.
High Brightness LED Light System – Being able to fly at night is an important feature in any drone, and the DJI Spreading Wings S800 EVO comes fully equipped with a high brightness LED system to ensure you always know what direction it's pointed in, and that flying in dark conditions doesn't create a problem.
3.7 Kg Dry Weight / 8.0 Kg Max Takeoff Weight – The dry weight of the S800 EVO for sale is remarkably light at just 3.7 Kg. And, while other aerial drones aren't able to handle much of a payload capacity, the Spreading Wings S800 EVO can achieve functional liftoff and sustained flight while weighing 8.0 kg total.
Flight Time – With the S800 EVO, you can expect to get a maximum of 20 minutes flight time/sustained hover time per charged battery. Carrying a full payload, and through operating the DJI S800 EVO drone aggressively in the air, you'll have significantly less flight time per charge.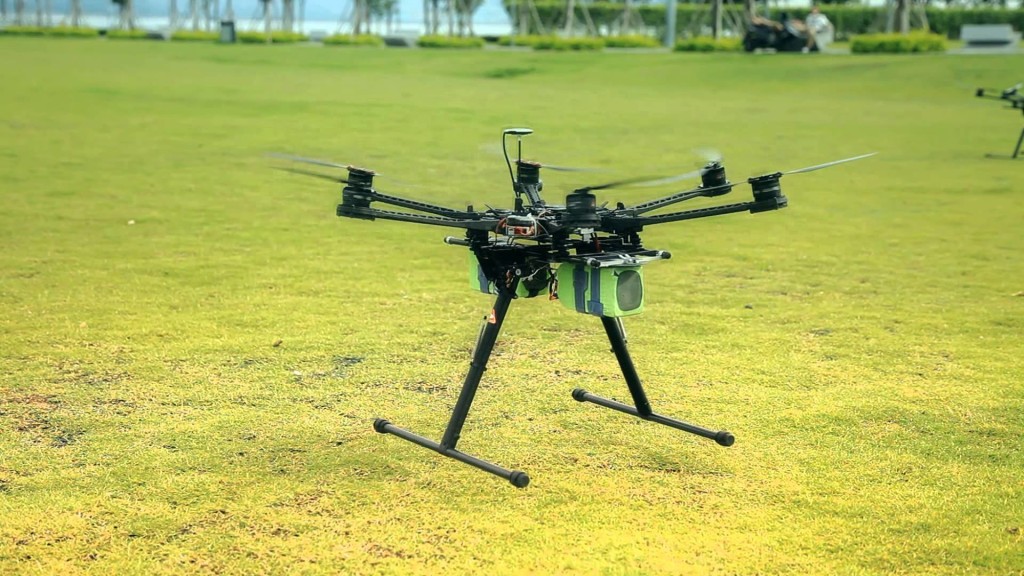 A Few Final Notes On The DJI S800 EVO Review
Although the DJI Spreading Wings S800 EVO is quite a hexacopter, you should definitely consider "shopping around". The price on the S800 EVO is way too much and the features don't really justify its high cost. Just because DJI is a very popular company name with many drone enthusiasts, that doesn't mean they're the only high quality aerial drone manufacturer out there. For example, we mentioned Foxtech in one of our previous articles.
Foxtech offers bargain basement deals for people who are tech savvy, and can't see themselves spending thousands of dollars on a hexa/octocopter brand name, when they can just as easily get the same level of performance from the Foxtech line of octo/hexacopters for a fraction of the price of DJI line.
Point being, while the DJI Spreading Wings S800 EVO review does have some enhanced performance includes, such as the heat sink beneath the propellers, and a forced air induction system to make better use of the heat sink properties, you should fully realize the overly inflated cost of the S800 EVO, and whether or not you can justify spending the additional $1000+ for it.
Us here at DroneExaminer.Com, were just not able to find any justification to spend that much on the DJI Spreading Wings S800 EVO. We could just as easily shop elsewhere for a cheaper drone, with the exact same features, that costs us WAY less. It's just like buying a generic medicine at a pharmacy that has the EXACT same active ingredients as a brand name. Why pay more for the DJI S800 EVO when you don't have to?