In this DJI Spreading Wings S1000+ review we will discuss all its features and benefits, as well as tips on how to find the lowest price and the best place to buy it online. This octocopter drone costs more than a quadcopter, therefore it's important to know all the reputable shops that have the Spreading Wings S1000+ for sale.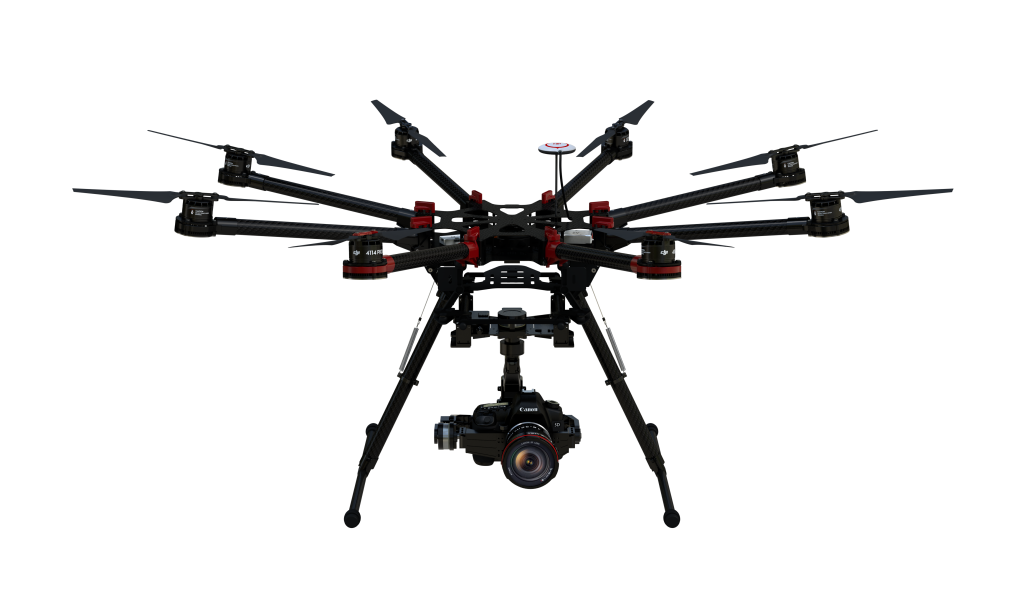 The makers of the Phantom class of quadcopter drones, DJI, is also producing the Spreading Wings class of aerial drones as well. How do they differ? The DJI Phantom is a quadcopter, with 4 propellers, whereas the DJI Spreading Wings S1000+ is an octocopter, with a total of 8 propeller motors operating at once. If you're used to seeing the classic 4 prop quadcopter design, when you buy DJI Spreading Wings S1000+ it will give you a new perspective on your ideas about aerial drones in general.
Why does the DJI Spreading Wings S1000+ in this review include 8 propellers instead of just 4? Well, when it comes to command of an aerial drone in flight, more propellers provides more precise flight control ability.
For example, in extremely demanding flight applications, the S1000+ is able to obey controller stick commands with a much higher level of precision than a 4 propeller quadcopter does. Thusly, the octocopter design can accomplish things like very minor incremental movements and in-flight positioning, bursts of speed that can be controlled more precisely, more stable hovering, as well as handling wind gusts with more finesse.
There's also multiple octocopter designs out there. Some have a top/bottom propeller design, with 2 propellers on each of the 4 arms, while other octocopters have a total of 8 arms with 1 propeller on each arm. Each octocopter design has its own benefits and drawbacks. And one of the major benefits of an 8 propeller design (like the Spreading Wings S1000+) is, if one prop fails, the unit will continue to remain in flight without any serious problems. Below is a more detailed breakdown of the DJI Spreading Wings S1000+ review.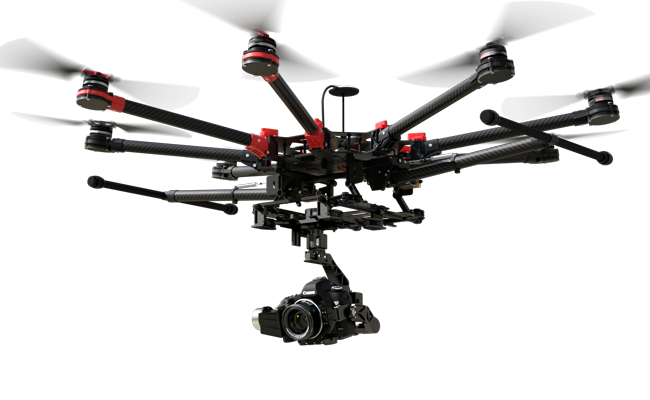 DJI Spreading Wings S1000+ Review: Full Product Features and Specifications
400 rpm/v Kv Motors And 15″ Foldable Propeller Blades – The DJI Spreading Wings S1000+ is designed with extreme torque and power in mind. When you see mini-quadcopters operating at 4000 Kv, or just a bit less, these smaller drones are built for pure speed and agility. The S1000+ operates at a much lower Kv RPM level, making it a superior workhorse for heavy payload applications.
15000 mAh LiPo Battery – The Spreading Wings S1000+ for sale comes with a 1500 mAh Li-Po battery. With multiple batteries and a multi-port charger, you'll be able to use the drone for hours at a time, and even more than that, if you have the money to buy the DJI Spreading Wings S1000+ with additional battery packs. Also, you can upgrade the battery pack to a higher mAh to extend the flight time ability.
Multiple Remote Transmitter Options – The S1000+ doesn't come with an included transmitter, and so you have your choice of transmitter options (sold separately), including the Futaba FASST Series and DJI DESST Series, as well as others. Look at different places to see which store has the best price on the S1000+, transmitters, and other accessories you may need/want.
Unique Power Distribution System – The unique power distribution system of the DJI Spreading Wings S1000+ allows a more even dispersion of energy to each of the 8 propellers, ensuring there's never any one propeller using more "juice" than any of the others in error. It's an energy management and delivery system that's much more capable and efficient than what we've seen in previous years.
3-Axis Gimbal Stabilization And Multi-Gimbal Support – A 3-axis gimbal allows you to position the camera angle/eye according to roll, pitch, and yaw. Flying in high velocity wind won't hamper your ability to get smooth and stable photo/video footage. The 3-axis gimbal system ensures trouble-free photography sessions that even a novice can accomplish with the Spreading Wings S1000+.
</ br>
If for any reason you want to change the gimbal you use with the DJI Spreading Wings S1000+, you can easily swap/interchange gimbals made by different manufacturers to suit your needs.
Foldable Carbon-Fiber Arms and Retractable Landing Gear – Car travel with the DJI Spreading Wings S1000+ is totally easy, thanks to the compact folding arm design. Additionally, the arms are made from carbon-fiber, which allows them to be strong, yet extremely lightweight at the same time. When you're ready to go airborne, you simply fold the locking arms outward and into place, and you're all set!
</ br>
The landing gear folds up into the DJI Spreading Wings S1000+ for sale, making it more compact in the air. With the gear folded up while in flight, you may be able to get into tighter/more secluded areas easier. Also, the retractable ability of the landing gear adds to travel ability too.
Multiple Flight Controller Compatibility – Being able to have your choice in DJI compatible controllers can make a huge difference in flight quality. The WKM, WooKong-M, and A2 flight controllers are compatible with the S1000+.
Flight Time – You can expect an average flight time of 15 minutes per battery charge, as long as you're not performing above average payload lifting. Payload lifts can reduce flight time dramatically.
Max Flight Speed And Payload Capacity – Due to the large size of the 15000 mAh battery and 8 propeller system, the DJI S1000+ is able to fly at a max speed of 30-45 MPH (depending on wind conditions) and has a max thrust of 2.5 kg per arm.
</ br>
Being able to attach large objects to the S1000+ is an ability that few flight drones actually posses. The payload capacity of the Spreading Wings S1000+ is roughly 6 kilograms, making it one of the most capable payload drone models we've seen to date!
4.4 Kg Dry Weight – You would think that with a total of 8 robustly powered arms, that the Spreading Wings S1000+ in this review would weigh quite a bit more. But nope, 4.4 kg is all it weighs, and that makes picking it up and carrying it from place to place a fatigue-free experience.
Ways You Can Use The Spreading Wings S1000+
We mentioned above that octocopters are able to traverse flight patterns with far more precision than a traditional quadcopter. But how exactly can people make this work to their advantage?
Sure, it's great to know that an octocopter is superior to other forms of aerial drones that have only 4 or 6 propellers, but what EXACTLY can you do with the 8 propellers of the DJI Spreading Wings S1000+ that make the octocopter worth the additional cost? Octocopters are always more expensive than quadcopters or hexacopters, and you need to be able to justify that cost, of course, in order to put yourself at ease with the whole octocopter purchasing idea. Below we'll go over how to find the best price on the Spreading Wings S1000+.
DJI Spreading Wings S1000+ Price
Now that you know all the features, specifications, characteristics and benefits of this octocopter drone, you are probably asking; what is the DJI Spreading Wings S1000+ price? The Spreading Wings S1000+ frame itself costs $1900 on Amazon at the time this review was published. But if you add a DJI A2 Flight Controller and a gimbal, the price can go up to $4,550. We recommend you emailing us or dropping a comment below if you are unsure as to which drone will fulfill your needs.
Small List of DJI S1000+ Octocopter Uses
Agricultural Ortho-Imagery – The heavy-duty propulsion system that the DJI Spreading Wings S1000+ octocopter creates can't be matched by copters that have only 4 or 6 propellers. Instead, the S1000+ you purchase is one of the top competitors in aerial strength and power to lift camera equipment that wouldn't otherwise be possible with lesser grade copters. Agricultural imagery missions often require much heavier camera equipment than the average person would normally use. If you buy the DJI Spreading Wings S1000+ you sure will have such aerial strength and power to lift the camera equipment.
Hollywood Movie Production – If you take a look at the capabilities of say, the Parrot Bebop, or 3DR IRIS+, they are quite vulnerable to wind, as well as somewhat limited with their tech capabilities to be a full speed ahead, fully capable aerial drone. Movie production teams are now using octocopters, such as the DJI Spreading Wings S1000+ on sale, to create visually stunning scenes like they've never been able to create before. The octocopters are able to hold a stable, still visual from the air with far more precision than 4 or 6 propeller copters can.
Heavy-Duty Payload Work – Even though the Spreading Wings S1000+ review only allows for a 6 kg payload capacity, it's enough to handle many everyday payload functions. There are also other octocopters, designed for heavy-duty payload work, that can carry much heavier weights. Basic quadcopters like the Parrot Bebop are known for only being able to lift/carry payloads of around .9 kg.