Welcome to our Blade Nano QX review page! On this page, we're going to be reviewing the Blade Nano QX, and once armed with our in-depth knowledge of this recreational quadcopter drone, you'll be able to determine whether or not it will be a good match for you.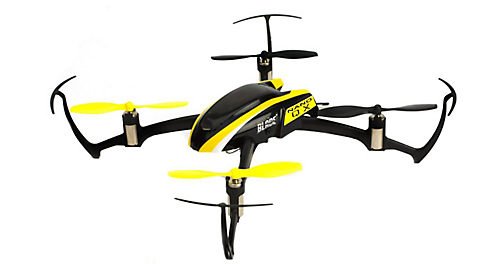 A really helpful thing to remember about recreational aerial drone quadcopters, is that each one is different, created with different feature sets and abilities. What one person likes in their quadcopter drone of choice, won't necessarily be the same as what someone else prefers.
Blade Nano QX Overview
That said, let's dig right into the Blade Nano QX features, abilities, and our overall recommendation about whether or not it's worth purchasing.
The Blade Nano QX – A Highly Affordable Option That's Perfect For Amateur Pilots!
With an asking price of right around $90, this is one of the most affordable drone options available right now. It's helpful to note, that with such a low asking price, you shouldn't expect an extreme level of performance and agility like you'll find in quadcopter drones like the DJI Inspire 1 (Almost $3,000 retail). The Blade Nano QX is designed purely for novice/beginner drone pilots.
Basically, inexpensive quadcopters like these allow people who are just starting out with piloting airborne drones to train and hone their skills, so that they don't wind up damaging or crashing more expensive and capable drones they graduate to purchasing in the future.
The Blade QX Nano doesn't come with any form of camera equipment, and is very basic in its functionality.
Blade Nano QX Features And Benefits
Stability / Agility Flight Modes – The Stability Mode of the Blade Nano QX gives you all the support you need through the SAFE system. If you want to let go of the controller joystick in mid-flight, the SAFE system will prevent the Nano QX from crashing and keep it stable/hovering. However, there's no automatic return home feature with the Nano QX, but the SAFE system provides enough stability so that even beginner pilots can make a safe landing.</ br>
Agility Mode allows intermediate pilots a faster flying speed, higher maneuverability, and the freedom to be in 100% control of the Blade Nano QX. There's no safety net in Agility Mode, so pilots need to be aware that crashing is much more of a risk if you make a mistake.
SAFE Technology System – SAFE, which stands for Sensor Assisted Flight Envelope, provides amateur quadcopter pilots with assisted flying support while they learn how to be a better drone pilot. SAFE acts like a form of "training wheels" for amateur pilots so they can develop their skills and eventually move on to more capable and expensive quadcopters.
7-10 Minute Average Flight Time – Although the flight time available with the Nano QX isn't exactly outstanding, as long as you purchase a few extra batteries and have them charged up at all times, you can enjoy hours of flight time fun!
E-flite® 1S 3.7V 150mAh 25C Li-Po Battery With USB Charger – Like all new drones in the marketplace these days, the battery tech used to power the Blade Nano QX is accomplished through Li-Po technology, which is much more efficient than NiCD and NiMH battery packs of the past. You can expect a recharge time between 30-40 minutes for each battery.
.58 Oz Total Weight And Rugged Build Quality – Being able to practice and hone your skills with the Nano QX is made possible thanks to the design team at Blade. Even through multiple crashes, damage sustained by this quadcopter seems to be minimal. And if you break a rotor blade during a flight incident, you can easily replace it with one of the included replacement blades that come in the box.
Final Notes And Recommendation On The Blade Nano QX
Is the Blade Nanox QX genuinely a quadcopter that's worth purchasing? That depends on who you are, to be honest. The Nano QX makes a great gift idea for someone that has NEVER piloted a drone before, and is just starting out with their interest in quadcopters as a hobby enthusiast.
The super low price tag, adequate safety features, and dependable Blade build quality make it a solid choice for people that have an interest in quadcopters, but don't want to pay too much to find out if they're going to enjoy flying them or not.
Purchasing multiple batteries for the Blade Nano QX is a GREAT idea, considering the flight time per battery is so limited. Also, consider purchasing a multi-port charger so you can charge multiple Blade Nano QX batteries at once. This way, you can have all day fun without ever having to worry about battery/flight time issues.
The Blade Nano is EXTREMELY FUN for beginners and highly affordable, paving the way for more expensive and capable quadcopter drone experiences. So yes, if you're new to quadcopter drones, and you want to try them out for the first time, then the Blade Nano QX is SUPER CHEAP and the chance of a lifetime!