The Blade Nano QX 3D review is a step up from the original Blade Nano QX, which is a lesser capable version of this quadcopter drone. The Nano QX 3D is able to do more tricks, comes with a slightly bigger battery, and is generally a lot more fun to play with, than the original Nano QX.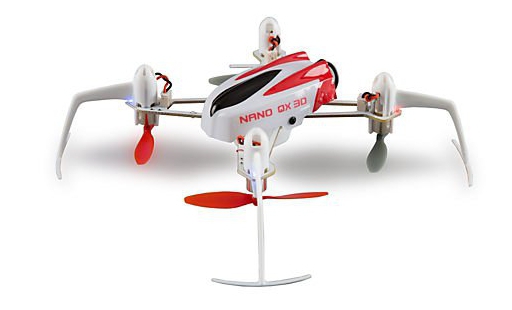 Quadcopters like the Blade Nano QX 3D are a lot of fun, but there's also a lot of customizations/upgrades, racing activities, and flying skills you can learn to impress your friends. Nearly everyone out there would love to have a skill that can impress and wow a crowd. Expert quadcopter flying skills can most definitely create an unforgettable display of aerial acrobatics.
Blade Nano QX 3D Review: Quadcopter Features and Specifications
Super Lightweight Frame – The composite, cross-shaped frame gives the Blade Nano QX 3D an added element of strength. Quadcopter drones of the past were designed without these strength enhancements, making them more vulnerable to damage.
Four 7mm Coreless Direct Drive Motors – The performance of the 7mm coreless motors is much better than you see with smaller drones, and they're also incredibly quiet.
E-flite 200mAh 1S 3.7V 30C Li-Po Flight Battery – Even though 200 mAh isn't very big, the Blade Nano QX 3D makes great use of it. It's very light and you'll notice how much "zip" this quadcopter has, because of the lesser weight.
Compact USB Li-Po Flight Battery Charger – Charging the battery of your Blade Nano QX 3D can be done from any PC, laptop, or smartphone equipped with an USB port. It takes about 40 minutes per charge, but with a multi-port charger, you can charge more than one at a time.
Spektrum 2.4 GHz 4 Channel DSMX Receiver – The receiver that comes with a Blade Nano QX 3D quadcopter receives the signal from the remote control transmitter. Operating at 2.4 GHz, it's about half as powerful as you see with 5.8 GHz transmitters bundled with drones like the DJI Phantom 2.
LED Lights and Bright Paint Job – Flying at night or in dark spaces is an immersive experience with the Blade Nano QX 3D. The lights are multi-colored, and for day time flying, you'll be able to see the bright paint job easily from a distance with the Blade Nano QX 3D we are reviewing.
Protective Fin – This Nano QX 3D quad drone even comes with a protective fin on the bottom of the craft, so you can see when it's flying inverted with just a quick glance.
4 Replacement Rotor Blades – This quadcopter comes with 4 replacement rotor blades, so that you can replace them for free when they break the first time. After that, you'll be on your own to purchase additional blades and other replacement parts. But don't worry, replacement parts for the Blade Nano QX 3D quadcopter are pretty cheap.
SAFE Sensor Flight Modes
SAFE (Sensor Assisted Flight Envelope) Sensor Unit – There's three separate modes of flight included with the Blade Nano QX 3D review: Stability Mode, EVO Mode, and Agility Mode.
Stability Mode: Allows you to practice your flight skills with less danger of crashing. The pitch and roll limits are both locked, and the electronic self leveling provides immediate balancing and recovery the moment you let go of the sticks.
EVO Mode: EVO Mode gives you just a bit more freedom to "flex your wings" and begin performing stunts with the Blade Nano QX 3D. The SAFE system is still engaged in this mode, but you're granted the freedom to do a half flip, fly inverted, and then return back to an upright flying position.
Agility Mode: This mode is 100% freedom of movement with no self-leveling assistance. 0%-50% throttle is negative thrust, and 51%-100% is positive thrust. You can do high-speed flips, hair-pin turns, and inverted flight! It's easy to crash in this mode if you're a novice, so you should only use Agility Mode if you've got enough experience. The Blade Nano QX 3D drone itself costs around $129.99, so it's not exactly cheap to replace.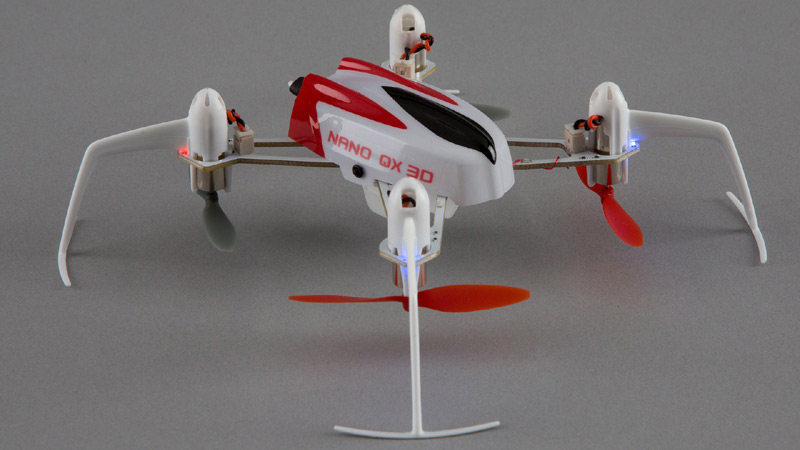 Helpful Information About Blade Nano QX 3D Review
The motor wires plug directly into the circuit board, which makes for a very clean internal wiring arrangement.
The Blade Nano QX 3D can handle up to 15 MPH winds comfortably. And as long as you're flying above plush carpeting or thick grass, crashing the Blade Nano QX 3D won't result in any damage. If you do crash on hard surfaces, it's built well enough to where you probably won't experience anything, except for a bent prop blade or two.
So for people just getting into the hobby of flying, the Blade Nano QX 3D makes a great "stepping stone" before spending money on bigger and better quadcopters. This Blade Nano QX 3D review is right in the middle range, as far as size goes, and it can help you hone your skills before making the jump into the full size quadcopters. Flying a quadcopter drone is basically a universal skill, like riding a bike. Once you learn to fly one of them, you get a feel for how they all function.