Read our full Blade Glimpse Review before spending hundreds of dollars on drones with features you don't need. This is an affordable mid-sized quadcopter with great features and benefits. Find out who has the best price out of all the online shops that have this Blade Glimpse quadcopter for sale.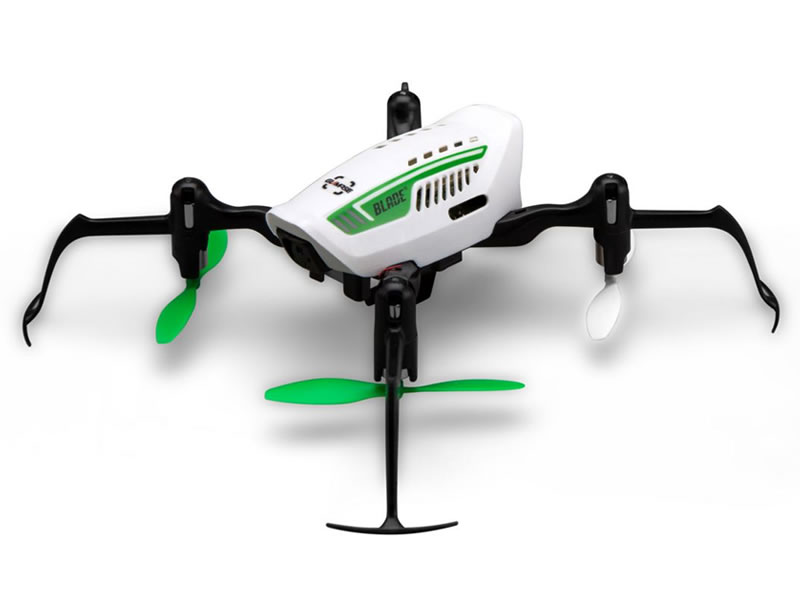 For quadcopter enthusiasts who need a camera bundled with their quadcopter, and don't want to settle for a mini-quad that only lasts a few minutes, or an advanced quadcopter that's way out of budget, the Blade Glimpse is a suitable solution. The Blade Glimpse for sale isn't as expensive as say, a Parrot Bebop, and there's a lot of consumers out there who simply don't need all the advanced features that the Bebop has to offer. Continue reading this Blade Glimpse review to find out if this drone is the right one to buy.
For example, the Parrot Bebop has a flight control distance of 1.24 miles. Some people might be able to make use of this incredibly large distance, but certainly not everyone. If you're in the market to buy a quadcopter, but don't really need a top of the line drone with "all the fixings", then the Blade Glimpse is worth checking out. It costs less than half of what the Parrot Bebop does, comes with a camera and a large assortment of other accessories as well. For the $180.00 price tag Amazon is asking, it really is a pretty good deal. That's about the best price on the Blade Glimpse that you will find if you purchase it online.
Don't Waste Money on Features You Don't Need!
Look at it like this. There's the highly advanced category of quadcopters like the DJI Phantom 3 Professional, Parrot Bebop, and Yuneec Q500 Typhoon. Then, there's your average mid-sized drone, like the Blade Glimpse, Blade 350 QX3, and Walkera QR X350. Finally, you have the nano mini quads like the Syma X12 Nano and Cheerson CX-10.
If you can't afford to spend $500-$1,500 on a super high tech quadcopter, then don't be ashamed to settle for a bit less in terms of available features. The Blade Glimpse offers you a great build quality, by a great company, and the price tag is low enough that nearly everyone can afford it.
A helpful thing to remember, is that the super expensive quadcopters offer a lot of features, but most people that just need a basic quadcopter sure shouldn't blow $500+ on features they don't need and wouldn't ever use. The Blade Glimpse is for sale at only $180, and many people agree that it's the perfect combination of low price and a respectably useful feature set. Below, we'll outline the Blade Glimpse review in full detail:
Blade Glimpse Review: Features & Specifications
SAFE (Sensor Assisted Flight Envelope) – The SAFE system is designed to ensure pilots that don't have a lot of experience can fly the Glimpse drone safely. For example, letting go of the controller sticks in mid-flight doesn't cause the drone to crash. Instead, the Blade Glimpse self-levels itself in mid-air and hovers to prevent the crash from happening.
</ br>
Pitch and roll limits are also locked in place, preventing erratic piloting and keeping you in control much easier than 100% free-flight does.
6-8 Minute Flight Time / 7 Minute Video Recording Time – 6-8 minutes isn't as much as the more advanced flight drones, such as the 3DR IRIS+ (15 minute flight time), or the DJI Phantom 3 (23 minute flight time), but when you can buy the Blade Glimpse for a lot less than these, all you need is a few extra batteries and a good multi-port charger, and the Blade Glimpse flight time limitation is lifted.
1280 X 720p HD Video And 1.0 MP Photo Resolution – Although 1.0 MP isn't a very high level of resolution, it accomplishes basic photo quality well. Professional photographers will want to look elsewhere for a more capable camera with a higher megapixel resolution, but for average people taking everyday pictures and video for keepsake purposes/fun and entertainment, the Blade Glimpse works just fine.
Team View and First Person View FPV – 480p resolution video can be streamed via a 5.8 GHz downlink. It supports a streaming ability range up to 80′ line-of-sight. Also, with Team View, you can stream to multiple iOS / Android smart devices at once.
500mAh 1S Li-Po Flight Battery – The included battery provides you with 6-8 minutes of flight time per charge. The USB charger will have the battery charged back up quickly to get you back in the air fast.
USB Battery Charger – The USB battery charger makes it easy and convenient to charge the Blade Glimpse battery with a PC, laptop, smartphone, or any device that has an available USB port.
4+ Channel, Multi-Function Transmitter With Spektrum 2.4GHz DSM2/DSMX Technology – Although 2.4 GHz isn't comparable to 5.8 GHz as far as signal strength is concerned, with the Blade Glimpse on sale at Amazon and other online retail shops you don't really need so strong of a signal. Because the control distance itself isn't as large as the more advanced quadcopters, like the 3DR IRIS+, as an example.
8GB Micro SD Memory Card And SD Adapter – Being able to capture video to your hearts, content is possible with the included 8 GB Micro SD memory card and SD adapter. You might also consider buying additional SD memory cards with a higher memory capacity as an upgrade.
Free iOS And/Or Android Itunes/Google Play App – Controlling the Blade Glimpse using your smartphone is another added bonus. It helps a lot to have this feature, and many people find it more convenient to use their smartphone than the included controller.
4 Free Replacement Rotor Blades – Inevitably, you're probably going to crash the Blade Glimpse at least once and probably more than that. In order to introduce you to replacing the rotor blades, they include 4 for free. After that, additional replacement rotor blades are pretty cheap and won't set you back too much financially. You can buy the Blade Glimpse quadcopter and additional accessories online or at local retail shops. We advice you to shop around to get the best price on the Blade Glimpse and additional accessories.
The Blade Glimpse Review – Helping Beginners Make Their First Steps In Aerial Photography
Everyone has eyes, and most everyone has eyes that see pretty crisp and clearly. Taking up a new hobby like aerial photography is a great way to fill up boring hours when you have nothing to do, and photo-booking with the Blade Glimpse can help you create treasured video/photo keepsakes you can pass down to family members who will obviously understand your love and appreciation for particular places and things, due to you being part of the same genetic bloodline.
Aerial photography can also make you a lot of money if you get good enough at it. For example, tour guides can outline trails, as well as show footage of popular places to visit. And for realtor assistants, using a quadcopter like the Blade Glimpse review, to make quick work of real estate footage/showcasing can be accomplished easily.