Blade 180 QX HD Review – If you're in the marketplace to buy a quadcopter drone, but have found that the majority of the current options are out of your price range, the Blade 180 QX HD for sale might be just what you're looking for. With a list price starting at only $149.99, it doesn't break the bank, and still offers a respectable level of performance at the same time.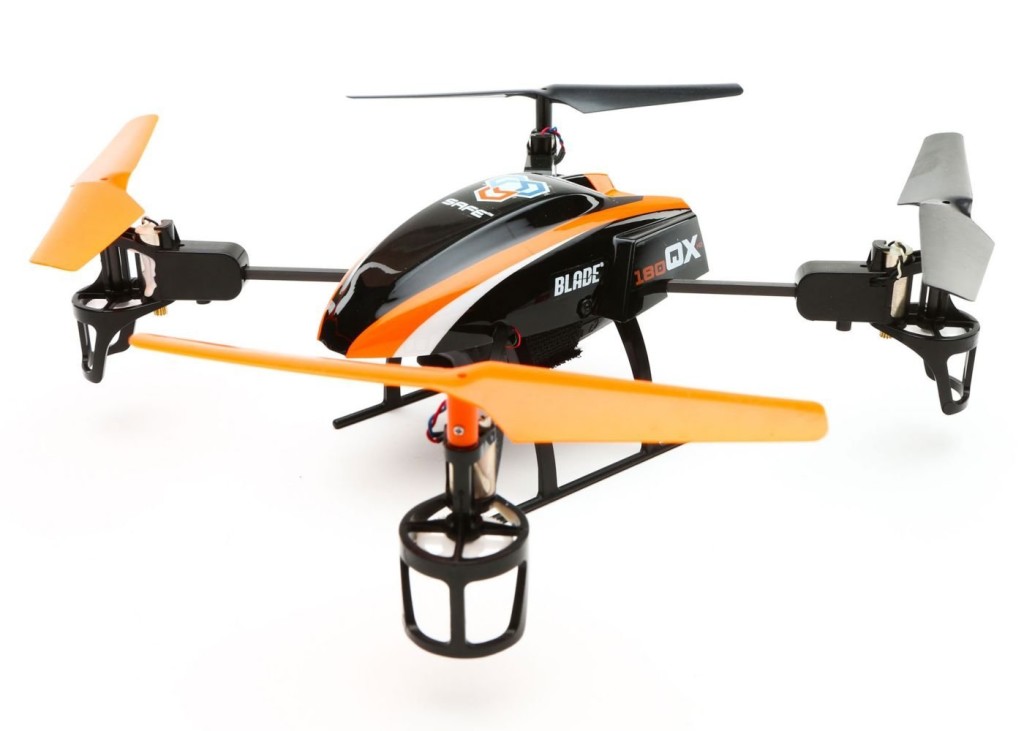 To give you a better understanding of how the Blade 180 QX HD compares to other drones, we're going to be providing a feature to price review below:
Blade 180 QX HD Review: Quadcopter Comparison
Blade 180 QX HD: With the best price tag starting at only $149.99, you can't really expect the Blade 180 QX HD to be on the same performance level as other quadcopter drones with a higher price tag. But, while many other drones lack an included camera, the Blade 180 QX HD comes with a 1.3 megapixel E-Flite EFC-721 camera if you purchase the BLH7400A and BLH7480A models at $179.99. So it's a pretty good deal in terms of "right out of the box", ready to go value.</ br>
The best priced Blade 180 QX HD also comes with safety features designed to keep novices safe while they fly, such as SAFE (Sensor Assisted Flight Envelope), as well as Stability and Agility modes. These features help to eliminate any possible crash scenarios before they have a chance to happen.

The total flight time per battery charge is between 5-10 minutes. The memory capacity of the Blade 180 QX HD is expandable through its micro SD card slot, and it comes pre-bundled with a 2 gigabyte card to get you started.

DJI Phantom 2 Vision+: This is one of the most expensive drones in the recreational drone marketplace, with a list price of $1,058. It offers 25 minutes of flight time via the 5,200-mAh battery, which is one of the longest flight times per charge of any drone available. It also comes with a micro SD card expansion slot, so you can capture additional footage through the included High Definition video camera.</ br>
The Phantom 2 Vision+ is regarded as being the best quadcopter option available, in terms of quality, performance, and durability. However, the steep price tag may discourage some shoppers from buying it.
Parrot Bebop: With a list price of $500, the Parrot Bebop comes with a 14 megapixel fish eye lens, and is able to capture video at 1080p resolution. The 8 gigabytes of internal storage isn't expandable, because there's no included memory card expansion slot. This may be a let down for people that need memory expansion capabilities from the drones they own.</ br>
It can reach speeds of up to 45 mph, and offers a total flight time of right around 11 minutes. The Skycontroller, which is available for purchase separately, features a full color screen displaying real time video from the "eye" of the Parrot Bebop in the air. The control distance of the Parrot Bebop is about 1.2 miles.
So, How Does The Blade 180 QX HD Perform?
If you check out the associated Blade 180 QX HD reviews you'll see that many people make comments about it's agility and performance in the air. It has also been noted that the Blade 180 QX HD for sale is a true champion when it comes to overall value. The Blade 180 QX HD is cheap enough for most people on a budget, and even though the image/video quality of the included camera isn't AMAZING, the quality is at least respectable.
As far as crashes go, the Blade 180 QX HD holds up well to abusive treatment and doesn't break easily. Next, mastering flight control of this 180 QX HD quadcopter takes a bit of training to do properly. You can expect to be spending at least a few days learning how to control the Blade 180 QX HD in the air, especially if you're a novice. And, when you do crash it, which you will according to frequently reported Amazon customer experiences, at least the blades are able to be bent back into place instead of having to replace them altogether.
As far as battery life goes, buying additional 1S 3.7V 500mAh batteries that take an hour to charge each, along with a multi-port charger would be a great idea. You can totally have all day fun with the Blade 180 QX HD buy, without having to spend all day charging the batteries.
So, when it comes to choosing the right quadcopter drone for you, comparing build quality, features, and price across each of the available drone options should be your main objective.
See what features the drone you're looking at comes with, such as max MPH speed, control distance, on-board camera/camera mounting ability, LED light sensors, flight safety control features, how the propeller/motor system is designed as far as build quality goes, the CPU/GPU/Flash Memory, battery capacity, remote control, smartphone compatibility, and memory card expansion slot(s).
The Blade 180 QX HD for sale is a great quadcopter that doesn't cost a lot, but provides tons of fun. The included camera means you won't have to shell out any additional money, and the build quality of the Blade 180 QX HD you buy can handle frequent abuse.