The Blade RC company has been turning out truly amazing quadcopters for years now, like the Blade 200 QX we will be reviewing in this article. They've gained a substantial following with hobbyists all over the world, and the quality of their quadcopters get better each and every year.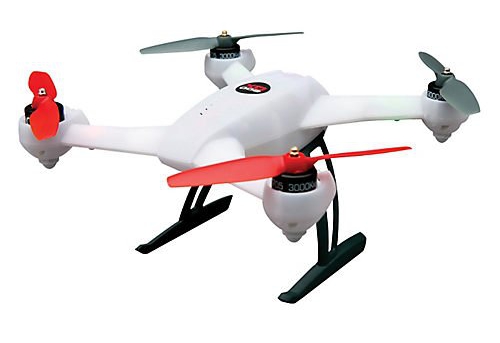 The Blade 200 QX is a beginner pilots dream come true. It's a fully capable quadcopter drone that doesn't cost a lot, and thusly, won't create a financial crisis if you end up totaling it by crashing. It also makes for a great "training" drone to help you hone your skills in preparation for more expensive and capable quadcopters. But make no mistake, the 200 QX is fast, agile, and much more like the more expensive drones than it is like the smaller and less capable mini-quadcopters.
Below, we're going to be taking a closer look at the specifics of the Blade 200 QX review, so you can better understand what this quadcopter has to offer, and whether or not it's going to be something you actually want.
Blade 200 QX Review: Features and Benefits
4 3000Kv Brushless Motors – To quickly outline what Kv stands for, it's the electrical abbreviation for Kilovolts per RPM.</ br>
A lower Kv means more torque, and a higher Kv means more rotational burst. It's a similar difference to what you see in 2 stroke and 4 stroke motorcycle engines. 2 strokes accelerate faster with less pulling power (higher Kv), while 4 strokes are built more for power and torque (lower Kv).

Now, to give you a quick comparison, the 3D Robotics IRIS+ has a motor Kv of 950, which means it has more torque and power, rather than speed and quickness, like we see in the higher 3000 Kv Blade 200 QX.

E-flite 800mAh 2S 30C LiPo Battery: The battery included with the Blade 200 QX isn't as powerful as the ones you find in more robust drones like the DJI Phantom 2 Vision+, which carries a 5,200 mAh battery. But, for only $219.00, you can't complain at that price.
3 Different Flight Modes:

Stability (Bailout): This initial stability mode is there to help beginner pilots "learn the ropes" of flying the Blade 200 QX quadcopter. This prevents a beginner pilot from flying into the ground when flipping from an inverted position back to an upright position. The throttle is set to run between 51%-100%, and no lower than that.
3D Stagility: In 3D Stagility Mode, you get 0%-51% reverse thrust, and 51% to 100% positive thrust, as well as self leveling to help assist you with inverted flight.
3D Agility: The 3D Agility Mode is for experienced pilots only, and doesn't have any self-leveling assistance. You have to rely solely on your flight skills to keep the Blade 200 QX in the air and not crash. And with no self-leveling, you can fly exactly the way you want, with nothing holding you back.

Aerial Superiority and Speed at an Affordable Price – This drone is capable of flips, rolls, dives, loops, and more. The speed factor of this quadcopter is pretty amazing too, and first time quadcopter owners will be sure to appreciate the fun factor of "fast flight". To top it off, the Blade 200 QX only costs around $219.00.
6-7 Minute Flight Time – You might think that 6-7 minutes of flight time isn't a lot, but with a few additional batteries on hand, you can greatly extend your total Blade 200 QX flight time for a cheap price.
Internal LED's For Night Time Visibility – Night time flying is a blast with the 200 QX, and the built-in LED's make it super easy to see it at night. So there's no worries about flying-off blindly and losing it.
Helpful Tips To Remember About The Blade 200 QX
Phoenix Flight Gear Carbon Fiber Body – This little upgrade can save you money, because the stock Blade 200 QX frame is weak and breaks easily. This carbon fiber frame will ensure the quad lasts much longer. As an example, a quadcopter pilot using a Phoenix Flight Gear Carbon Fiber Body slammed into a light pole at 75% throttle and only broke 1 prop, thanks 100% to the carbon fiber body upgrade.
Replacing the stock props with the Gemfan 5030 5″ x 3″ Propellers – 4x Clockwise + 4x Counter-Clockwise props will make this 200 QX quadcopter much faster. You also have your choice of colors with this prop set.
Blade 200 QX Review: Pros And Cons
Pros:
Very fast. An extreme joy to fly. Plenty of battery juice to power additional LED's.
Easy to fix broken parts with affordable spare parts offered by online retailers.
Blade 200 QX is cheap and worth the money, especially for novice pilots that want to practice their skills and not worry about money lost if they total it. Killing the motor if you know you're going into a crash will spare your blades. Props that are still spinning during a crash are much more prone to breakage.
Motor is able to withstand constant flying, without getting too hot. Able to handle high wind situations with ease. 25-35 mph gusts are no problem for the Blade 200 QX.
Firmware upgrades are available for the Blade 200 QX, enabling things like 3D mode, which allows you to do things like fly upside down and more!
Cons:
Control distance is somewhat limited. With more expensive quadcopters like the DJI Phantom 3, you get a much larger control area. You can expect to get 300 yards in horizontal distance, and about 200 feet in the air vertically.
You can very easily lose this Blade 200 QX drone against a bright sunshine sky and lose it forever. You could paint the Blade 200 QX with bright, identifying colors that will help you keep track of it in the air.
Remote control is sold separately if you purchase the Blade 200 QX for sale off Amazon. Beginners might be disappointed, but it's actually a good thing if you're an experienced pilot that wants to have your own choice in controller options. Spektrum RC makes some good controllers that are compatible with the Blade 200 QX quadcopter, such as the DX6i.