The 3DR Solo review is here to help us begin our journey into a new era of aerial flight drones. Now is the time that drone manufacturers are beginning to capitalize on including more advanced technology into drones in general, and before long, we'll be seeing many more quadcopters including similar (and even additional) advanced capabilities to those in the 3DR Solo drone by 3D Robotics.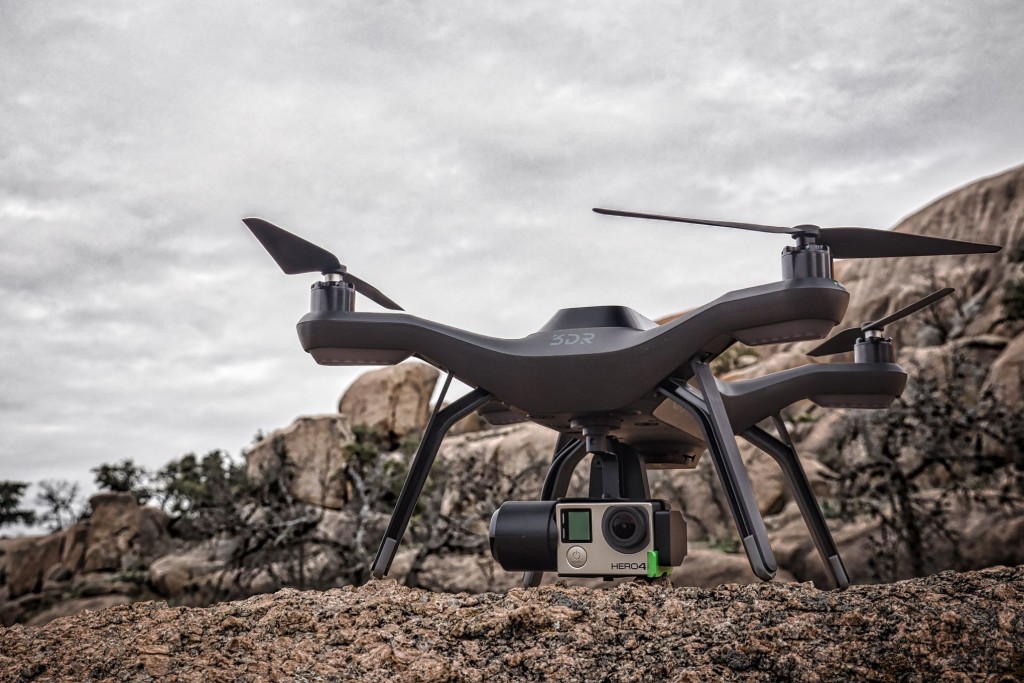 For example, most drones in the marketplace are made up of only a few basic components. The propellers/motors, a video camera, a multi-axis gimbal, a remote control, in-flight stability system, flight safety system (such as SAFE), plastic housing, and app compatibility with iOS / Android smartphones.
The 3DR Solo is just a bit different than these previously basic quadcopters, and so you probably have questions as to how exactly it sets itself apart. Below, we're going to review the features of the 3DR Solo smart drone, one by one, so you can see exactly what it has to offer. The new technology and features the 3DR Solo includes, as opposed to what more basic quadcopters include, will become clear after you finish reading this 3DR Solo review.
3DR Solo Review: Product Features and Benefits
Dual 1 GHz Linux Computers – The 3DR Solo comes with dual Linux computers: One in the controller, and one in the 3DR Solo drone itself. The benefit of dual CPU's, instead of just one, is that all commands and functions are processed extremely fast, and there's never any "bog down" or lag.
LED Light System – Being able to use your quadcopter at night allows you to get more done with the 3DR Solo smart drone. It lets you know which direction it's pointing at all times. You might also consider "rigging up" a flashlight to the 3DR Solo, so you can accomplish night time missions too.
880 Kv Motors – 880 Kv seems to be the perfect combination of speed ability and torque. While some quadcopter motors operate at speeds of 3,000 Kv, they lack the torque needed to engage in lifting payload objects, fly in heavy wind, etc. With the Kv set at 880, the 3DR Solo provides a useful combination of both torque power and speed.
14.8 V LiPo 5200 mAh Battery – The 5200 mAh battery is certainly respectable as far as capacity goes, and the 3DR Solo makes efficient use of it, thanks to the computer controlled flight system. You get about 25 minutes of flight time with the Solo when it doesn't have a camera aboard it, and approximately 20 minutes with a camera and gimbal installed. The battery in the controller is 2600 mAh, and lasts for about 4 hours.
10X4.5″ Self Tightening, Glass Fortified Nylon Props – Other quadcopters available don't come close to the strength quality of the glass fortified props offered with this 3DR Solo drone.
Accessory Bay – You can keep plenty of items in the accessory bay, such as spare batteries, swappable/custom parts, and more. The accessory bay makes it easy to keep all the items you need on hand.
3-Axis Solo Gimbal – The 3-axis gimbal that's included with the 3DR Solo smart drone works well, as it should, but the gimbal system is also swappable. You can easily replace the gimbal to suit your needs with an aftermarket one.
Smart Battery With LED Indicator – Keeping track of the amount of battery life left on the 3DR Solo is easy with the included LED indicator.
Flight Simulator App – Before going out and flying the 3DR Solo, the included simulator app allows you to practice your flight skills realistically, so you don't wind up crashing the drone. Considering the 3DR Solo costs about $1,000, it's not exactly cheap to replace.
Mobile (HDMI) HD Video Streaming – This 3DR Solo drone allows you to stream video from a GoPro camera to your phone with a range of about a half mile.
Mobile Flight Control/System Control App – Everything you can control on the Solo, you can also control from the mobile app. This includes all the 3DR Solo system settings, as well as activate auto-take off and land, return home, and even hit the "E-Brake" to pause your flight in mid-air.
Autopilot System – The 3DR Solo is also able to fly on autopilot too, and follow a specific trajectory path that you outline.
Cinematic Flight Mode And Computer Assisted Flight Shots – One of the best things about the 3DR Solo smart drone is the ability to record camera footage in ways that other drones can't. For example, the Solo allows you to activate a feature called Cable Cam, which directs the drone to fly on autopilot, freeing your hands to be in control of the camera the whole time. Also, the Orbit feature will automatically circle around any object you define, and keep the camera locked onto the object itself. This gives you full 360 degree, panoramic view. Finally, the Follow feature will keep the 3DR Solo drone following you by itself, and allow you to be completely hands-free.
Control Distance – You can expect to get about 800 meters (1/2 mile) maximum flight control distance.
Wireless Firmware/Software Updates – 3DR Robotics offers their customers free software/firmware updates for their drones.
Replacement Guarantee – If the 3DR Solo crashes at any time, and it's the fault of the drone itself (mechanical failure), 3DR will replace the Solo smart drone for free. That's one heck of an incentive to put your trust in 3DR Robotics, considering there's nothing to lose financially.
3DR Solo Smart Drone Review – What's The Price?
Considering the features and specifications outlined in the 3DR Solo review above, we can conclude this smart drone is definitely worth purchasing. But one may be wondering "what's the 3DR Solo Price?" The price for the 3DR Solo smart drone is $999 without gimbal and $1,399 with gimbal.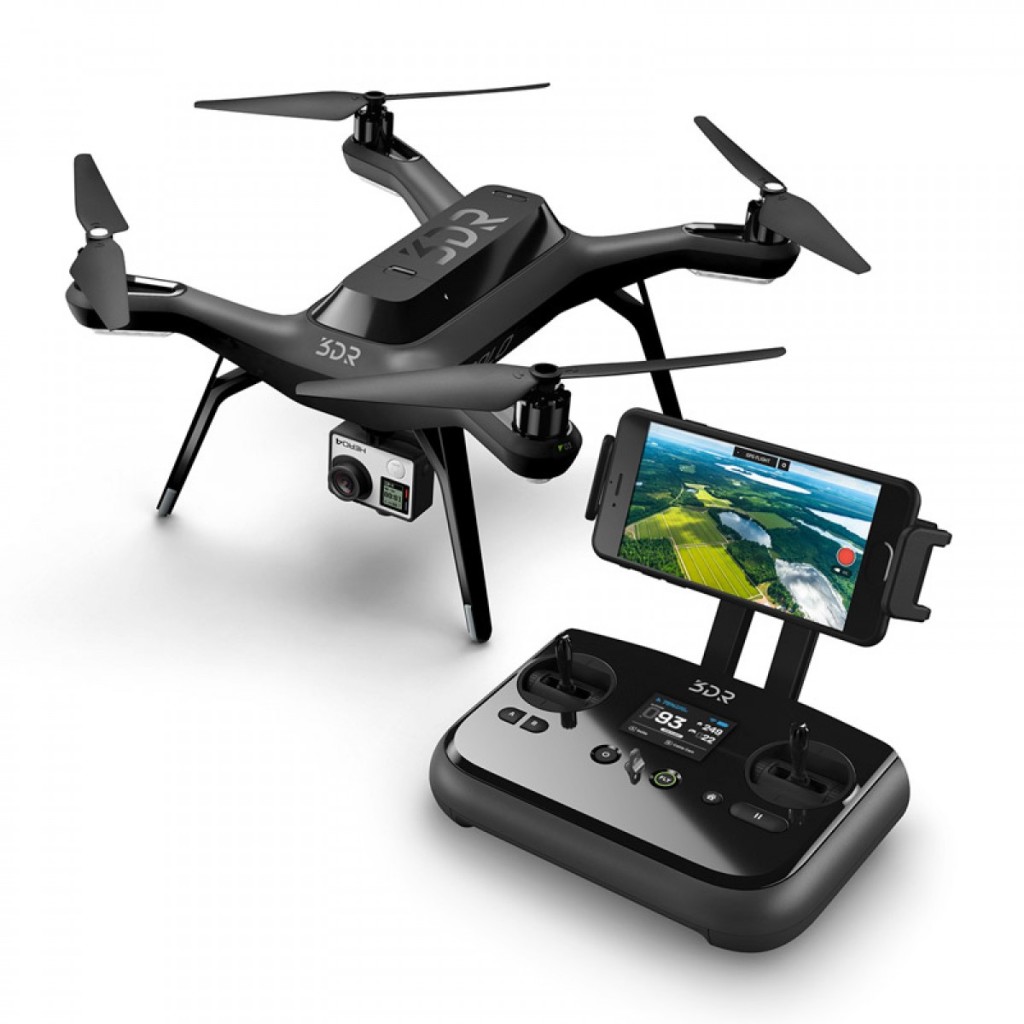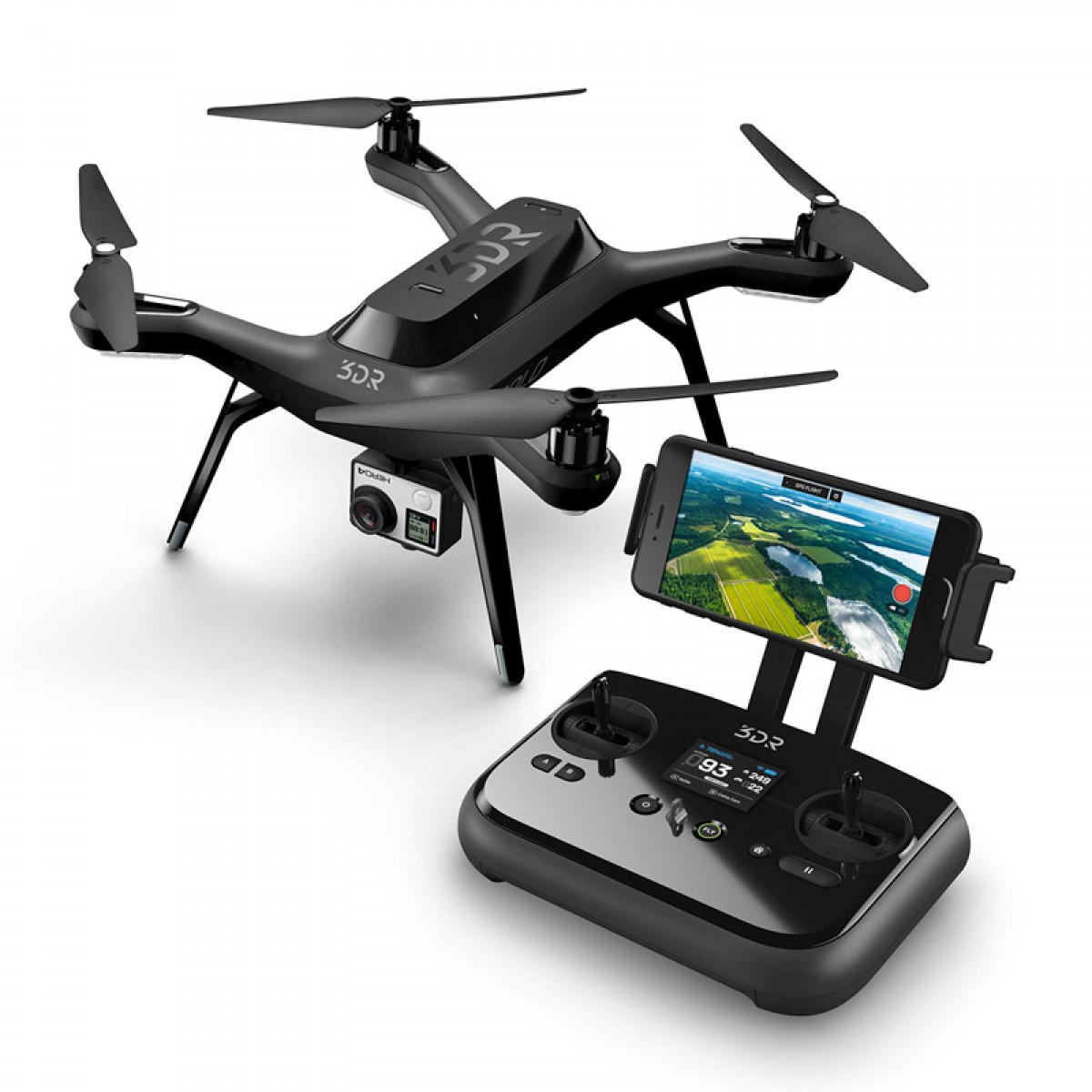 When you compare the 3DR Solo to other drones, you quickly see that it's definitely smarter, a lot more advanced and capable. So, when other quadcopters in the marketplace cost nearly the same amount (around $1,000), then why on earth would you choose to go with the lesser quality drone? It wouldn't make sense to do that. For $999, you're getting the same price tag, for a better all-around smarter drone. Then again, you should always do your research to understand the features YOU specifically need, and keep your options open.
It helps to realize that 3DR Robotics is at the very top of their game as far as aerial drone technology is concerned. They're now releasing much more advanced and smarter drones, at an affordable price, that far exceeds the abilities of drones released just a few years ago.
We will be publishing more news and information about the 3DR Solo smart drone. Cheers for reading our 3DR Solo review and drop us a comment if you have any questions or input about this smart drone if you already own one.