3DR IRIS+ Review – Aerial imagery used to be accomplished using rudimentary kites and planes, but thanks to the evolution of our modern day technology, some great leaps forward have led us to develop high-tech, unmanned aerial drones. The new aerial drones, such as the 3DR IRIS+, are lightweight enough to be portable in everyday vehicles, and allow people to do things like capture amazing family vacation videos and adventure trips. Cinematographers are also very keen on using lightweight aerial drones to film stunning video recordings of picturesque landscapes.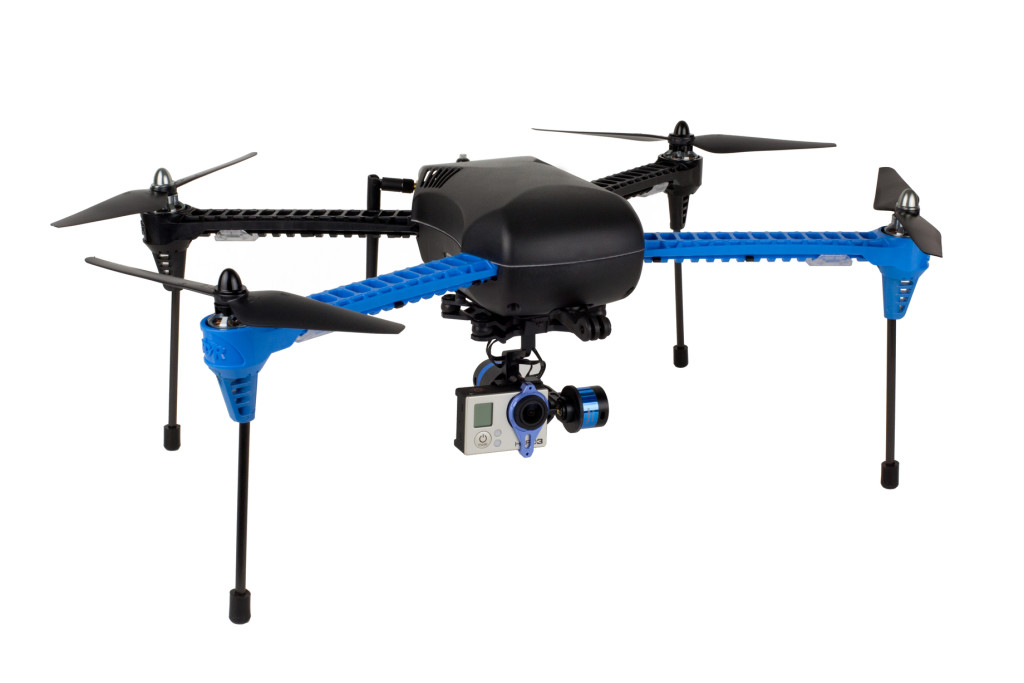 The 3DR IRIS+ for sale, which is a fairly inexpensive and lightweight quadcopter built using plastic polymers and trademark Zytel Nylon legs, allows the average aerial drone enthusiast an option that doesn't cost "an arm and a leg" to purchase. In fact, the 3DR IRIS+ costs only around $750, someone with an average salary could could afford to purchase multiple 3DR IRIS+ drones, and even buy them as gifts for friends and family members. You will find the best price on the 3DR IRIS+ if you buy it in a bundle from a reputable online retailer.
Features of the 3DR IRIS+ Drone Review
When you get up close and personal to inspect the benefits and drawbacks of the 3DR IRIS+ review, you notice a few key things:
When compared to other drones like the Parrot Bebop, the 3DR IRIS+ quadcopter goes above and beyond what the Bebop can accomplish. Instead of only getting 11 minutes of flight time like you'll find with the Parrot Bebop, you get a total of 16 minutes if you purchase the 3DR IRIS+. It may not seem like a lot of additional flight time to someone that's never owned an aerial drone, but inexperienced drone enthusiasts quickly learn that it's very time consuming to have to recharge the battery OVER AND OVER again throughout the day.
The more flight time you can achieve with these simplistic and affordable aerial drones, the less time you'll have to spend recharging the batteries, and the more time you'll be able to spend in the air.
Flight Time And Weight Comparison:
To make the comparison perfectly clear and defined, the Parrot Bebop has a total weight of 410 grams and a flight time of 11 minutes. The IRIS+ total weight and flight time: 16 minutes with a weight of 1282 grams.
It costs about 33.3 percent more than competing models, such as the Parrot Bebop drone, which is priced very competitively at $500. This may make people on a budget look for more affordable options or wait until retailers drop the price tag and offer their best price on the 3DR IRIS+.
It's helpful to note that the higher price tag of the IRIS+ for sale isn't just to gouge customers out of money to make profits. It actually comes with an array of features that outclass competing drone models in the same category.
So, when you're considering the additional cost of the 3DR IRIS+, be sure to factor in to your purchasing decision that the build quality, features, and overall satisfaction score is higher with the IRIS+ than what you'll find with drones like the Parrot Bebop. It's just a bit higher quality, and thusly, the price tag on the 3DR IRIS+ is a bit higher too.
Things To Consider About The 3DR IRIS+ Quadcopter
There's a total of 4 different flight modes you can select from: Altitude Hold, Stable Mode, Autonomous Mode, and Loiter Mode. These 4 flight modes give you the ability to control the 3DR IRIS+ manually with 100% freedom in directional movement, and also to fly it with a pre-programmed, hands-free flight plan. The Loiter mode allows you to keep the 3DR IRIS+ in a locked, stationary position so you can get the best shots.
The IRIS+ does surprisingly well in high wind conditions, due to the respectably heavy weight and high performance propeller design. However, civilian drone technology is still pretty much in its infancy. The 3DR IRIS+ you buy, while a whole lot of fun to use and take pictures with, lacks the advanced technology and ability that we'd all like to see available for purchase.
It's helpful to note for possible 3DR IRIS+ buyers, that pictures and video taken with it can sometimes come out less than perfect, and that wind turbulence can throw the quadcopter off, depending on the wind strength.
You can expect to get between 16-22 minutes of flight time per battery charge, and you can control this 3DR IRIS+ drone with a PC, Mac, or Android smartphone, in addition to the handheld controller that comes with it.
On a closing note, most people that have reviewed the 3DR IRIS+ for sale on Amazon have great things to say about it, with a 4.2 out of 5 star review score.