Euro 2016 qualifiers already started as all football enthusiasts are well aware of. Football has had its share of history of weird and surprising things happening on the field, like; head butts or altercations between players, and much more. Partizan Stadium witnessed another such incident in the midst of a boring match, which was then abandoned as things escalated out of control in the blink of an eye. Yes, the match was studded with football, a pinch of politics and our very own DJI Phantom drone, which was unanimously declared as the star of the day (quite literally). Courtesy UEFA interventions, the crowd majorly comprised of Serbian home supporters that later proved instrumental in the way things unfolded.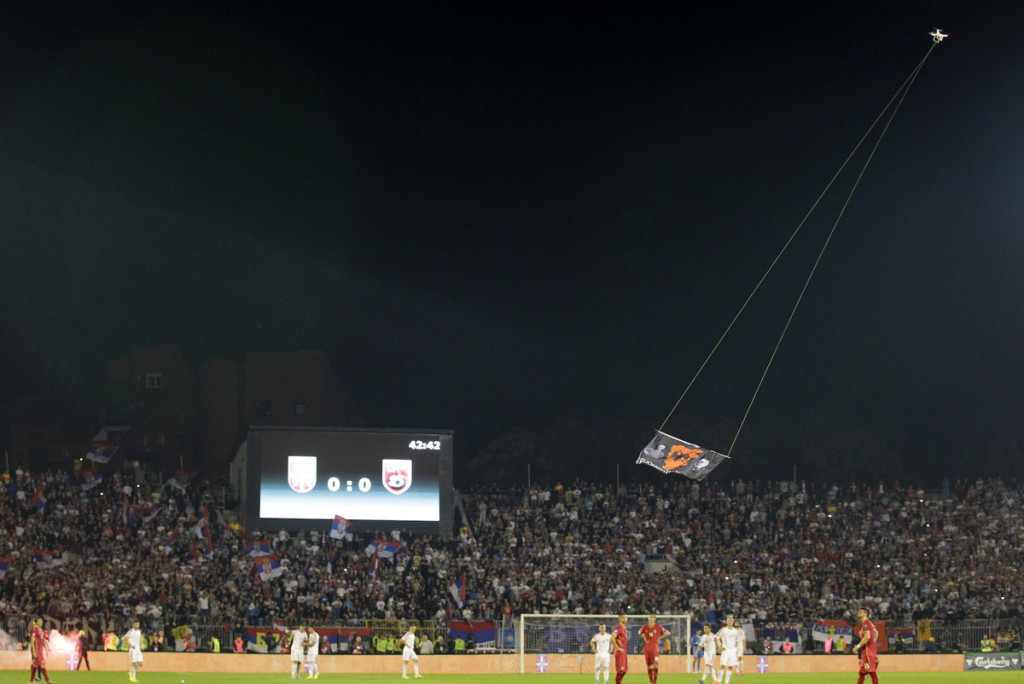 DJI Phantom Drone Carrying an Albanian Flag
This football-politico drama was no less of a game that had a tinge of everything spicy to it. What happened was, in the middle of the match, people suddenly noticed an Albanian flag floating in the air, in the process of being laid down on the field by a DJI Phantom drone. Yes, you don't need to read that line again, it is hard to believe, but that cannot change history. The players, the referee, the crowd and the officials had one thing in common; that bewildered look on their faces with no tabs on what was happening. You'd be surprised too, if during a football match, a flag starts floating over the roof. Wouldn't you? But this was just the beginning.
Then one of the Serbian defenders managed to pull it down, he was infuriated by this. Voila! That was the moment we realized that it was a quadcopter that was carrying that flag. A very real Phantom drone by DJI. Just when you thought this was it, we have a drone hovering with an Albanian flag in a stadium full of Serbian supporters. The flag bore the black eagle insignia, a very relevant reference to its independence. This resulted in a melee between players, as Albanian players rushed to collect the flag, due to which the match was suspended for 30 minutes. But due to violent intervention from the crowd, the match could never be resumed.
Bad Usage of a DJI Phantom Drone
It's very interesting to know the fact that this incident has a political significance to it. Kosovo, a large ethnically Albanian territory unilaterally declared independence from Serbia in 2008. This action was seen as a lesson, more like a message for the Serbians. Due to this, things spiraled out of control. What initially was supposed to be a celebration of unity through sport, turned out to be everything against it. While the players settled it out on the field, the crowd had their own blows to deal. Riot police had to be called up to restore the humanity in these hooliganish humans.
Everyone talks about the uses of DJI Phantom drones in varied areas for development and progress. It was only after today that we realized drones can be used to stifle political hatred with such ease. But one must say, the DJI Phantom quadcopter played its role of ferrying the flag and setting ugly things into motion really well.