This article gives you the latest review of the WLtoys V262 quadcopter. The V262 by WLtoys is an affordable drone loaded with lots of fun for kids and adults. Continue reading the full review of the WLtoys V262 Cyclone UFO 6 Axis Gyro Quadcopter.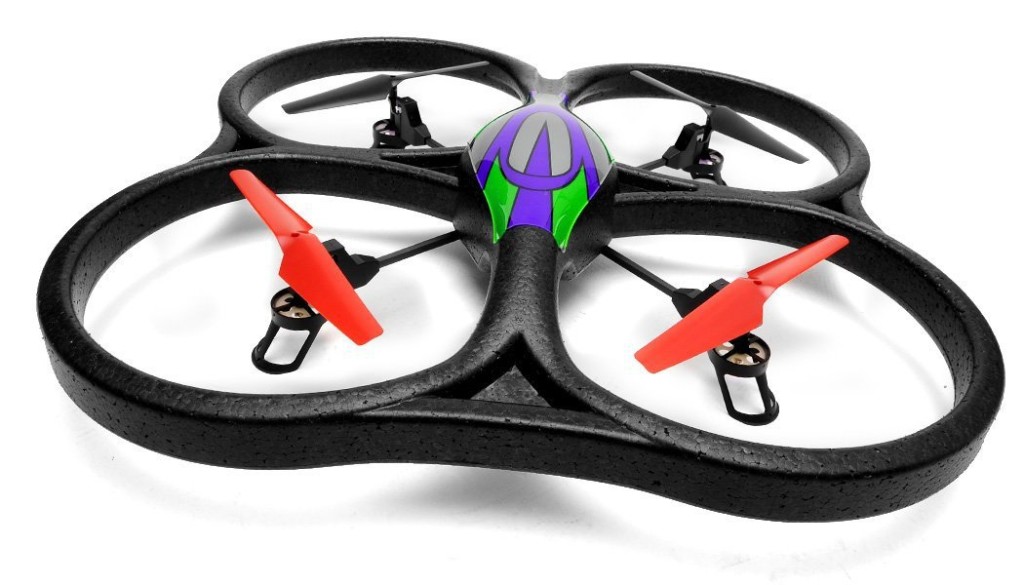 WLtoys has been in the business of creating awesome air toys for years now. They specialize in creating small-scale drones, such as the V272, which is so small, that you can literally fit more than one inside the palm of your hand at the same time!
The WLtoys V262 is different than all the other aerial drones WLtoys produces. It's much larger in size, and it also weighs more.
To give you an idea of the dimensions difference, the WLtoys V262 dimensions are:
51cm X 51cm X 5cm
98 grams
The dimensions of the WLtoys V272 is:
4.5cm x 4.5cm x 2.5cm
13.7 grams
So, as you can see, there's quite an appreciable size difference between the two. And not only that, but all the other WLtoys quadcopters are sized to be very small as well. Basically, the WLtoys V262 is the only quadcopter made by WLtoys that's a larger type model.
When you get your first look at the WLtoys V262, you'll see that it has a truly odd design shape. But let's not let that lead you astray into thinking that it's not SUPER fun to fly it, because it really is. The WLtoys V262 is highly maneuverable in the air, and can handle tons of different custom modifications, unlike many other proprietary aerial drones we see in the marketplace. (More on the custom modding towards the end of this article)
WLtoys V262 – Product Features and Benefits
6 Axis 4 Channel Design – Moving forward in technology improvement, the WLtoys V262 comes with a 6 axis flight system, allowing you to achieve banks and rolls in the air and have precise control of the drone in the air.

br>
And with a total of 4 channels: Pitch, Roll, Yaw, and Throtttle, piloting this aerial craft is as fun as it gets.

Super Bright Night Time LED's – Night time flying with the WLtoys V262 is like seeing an alien craft. The large size of this drone makes it a real treat to pilot at night, and with multiple V262s flying at once, it's a light show like you've never seen before.
2.4 GHz Transmitter – The transmitter on the WLtoys V262 uses the industry standard 2.4 GHz frequency band. It's quite responsive, and as we mentioned earlier, the 6 axis flight ability will have you enthralled from the very start.
7.4V 850 mAh Li-Polymer Battery – The battery on the WL Toys V262 is fairly adequate. You can expect about 8-9 minutes of flight time per charge, and about 1 1/2 hour charge times.
100 Meter Control Distance – 100 meters might not seem like a lot of distance, but it's really a blessing in disguise. With less area, you have less chance of visually losing track of the V262 drone.
What To Expect About The WLtoys V262 Quadcopter!
The WL Toys V262 is impressive in the air, because it's heavy and able to withstand wind turbulence like a champ! With every hour and a half charging time, you can expect an average of 8-9 minutes of flight. If you bought multiple batteries, you'd be able to increase your flight time dramatically. Together with a multi-port charger, you can have all day fun at an affordable price.
Custom modding, as we briefly mentioned earlier, can yield some awesome results. For example, loading an Android smartphone onto the base of the unit will allow you to record video/audio in the air, and hooking additional lights up to the WLtoys V262 can be accomplished with little trouble at all. Use your imagination when it comes to custom modding, and you'll be surprised with what you can accomplish.
Most people are completely happy with their purchase of the WL Toys V262, and would immediately buy another one if their first one broke for some reason. Not only that, but the WLtoys V262 is better quality (or so people say), than any of the hobby craft you'll find at Target, WalMart, Toys R Us, and other stores.
All in all, especially since the WLtoys V262 is only about $70 retail, it's not a lot to pay for a drone that's built this well. Stop for a moment and consider the price difference between this quadcopter, and one such as the Parrot Bebop ($500 retail).
The Parrot Bebop costs 5 times as much, and offers a very similar flight time of around 9-10 minutes. Then ask yourself why you'd pay 5 times as much for a drone that's actually OUTCLASSED by the WL Toys V262?
All in all, especially for people on a tight budget, the WLtoys V262 makes a whole lot more sense to own than the more expensive competing quadcopters you'll find out there.