This article is going to provide you with a review of the Parrot Bebop Drone. Our review of the Parrot Bebop Drone quadcopter will help to not only educate you about how far drone technology has come so far, but also what you can accomplish with it to make your life better than it is right now!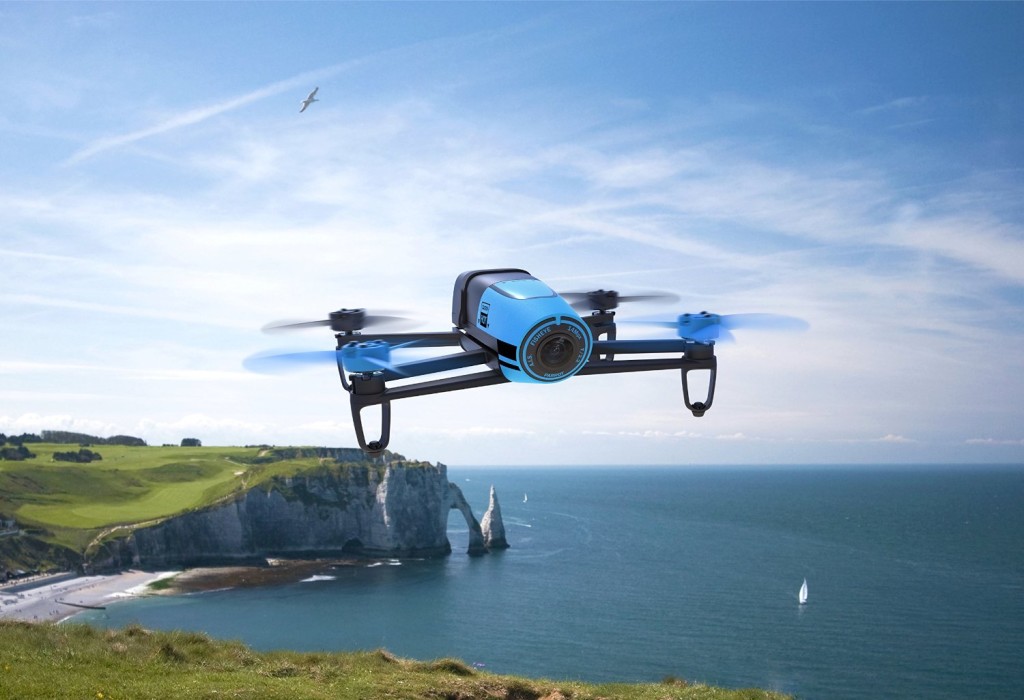 Just a few years ago, airborne drone technology was in development, but hadn't been officially released for public use. Sure, there were prototypes and people who built their own flying drones, but those people were few and far between. Nowadays, with the Parrot Bebop Drone being available for mainstream purchase on Amazon and even hobby stores, interest in airborne drone technology is at an all time high.
The British Navy made the first major headlines concerning an UAV (unmanned aerial vehicle) drone. It was nicknamed the Queen Bee, and could fly in excess of 100 mph. But, being as it was only the 1930's, the early technological abilities limited the Queen Bee UAV to having very small cargo space and a short radio controlled transmission range. It wasn't anywhere near as advanced as the technology we have now.
These days, drone technology includes camera equipment and a very respectable flight time between battery recharges.
Bebop Drone Quadcopter – Affordable Price Tag!
The cost to own a Bebop Drone quadcopter is surprisingly cheap! You might expect to pay a few thousand for technology like this, but you'll be pleasantly surprised to know that the Bebop Drone only costs around $500 to own brand new!
Below, we're going to be outlining the features, so you can see exactly what you'll be getting and how you can use it in the best way possible!
Parrot Bebop Drone Features And Benefits
Dual Core CPU, Quad Core GPU, And 8 Gigabytes Of Onboard Flash Memory – The Parrot Bebop Drone delivers super fast processing power and doesn't skimp on anything. The 8 gigabytes of flash memory is enough to record hours of video, and the GPU and CPU are fast enough to not skip a beat, even under the most resource intensive requests.
Airborne WiFi Hotspot – With Wi-Fi 802.11 network technology built in, the Parrot Bebop Drone is able to use either 2.4 GHz or 5 GHz frequency bands through the 2 separate antennas. You can switch between them based on any interference you experience.
1080P High Definition Video – Using a patented 3-axis stabilization system, the Parrot Bebop Drone won't shake or produce wobbly video, even in high wind turbulence environments. Video comes out remarkably stable and distortion free.
14 Megapixel "Fisheye" Camera w/180 Degree Adjustable Lens – With a fully adjustable, radio controlled, 180 degree field of view, you can pan left or right to focus on specific places or objects. The 14 megapixel camera is top of the line, and produces video images with stunning visual clarity and quality.
Embedded GPS System W/Flight Map Coordinates – The Bebop Drone can fly according to pre-programmed coordinates with the help of its Flight Map system. The GPS is accurate, and gives you the exact location of the drone at all times.
Freeflight 3 Piloting App For iOS and Android Phones – Not only can you control your Parrot Bebop Drone with your sky controller, but with the included Freeflight 3 Piloting App, you can use your smartphone to control it in flight too!
Exclusive Parrot Cloud Access – The Parrot company allows you to upload and share your videos and photos taken with the Bebop Drone with friends, family, and anyone else that's a member of the cloud. There's over 150,000 members of the cloud and rising, and seeing all the amazing images and videos people have taken is absolutely breathtaking!
And A Whole Lot More Too…

Is The Parrot Bebop Drone Worth Buying?
The reviews about the Parrot Bebop Drone are a mix of good and bad (according to Amazon buyers), with an average total score of 3.5 out of 5 stars. It's not a terrible review score, it's just that the Bebop Drone is pretty cheap to afford, and thusly it's not equipped with technology that's going to win the praise of say, the British royalty or anything.
The Bebop Drone by Parrot costs, as we mentioned above, only around $500 brand new. While some people have near perfect experiences with it, it seems that some other owners have had their share of glitches and problems.
So in answer to the question, YES the Bebop Drone is worth purchasing, but it may not respond JUST THE WAY YOU WANT IT TO in every single outside environment that you fly it in. It may have trouble with the Wi-Fi signal, or you may find that some high wind turbulence in certain areas might be a bit too much for it. Stuff like that.
So as long as you can accept the build quality limitations of the Parrot Bebop Drone, and that it's actually a heck of a lot of fun and bang for your buck with such a low price tag, we think you'll be more than happy with your purchase.