This article is a detailed Hubsan Q4 review by professional drone enthusiasts. If you are thinking on buying this quadcopter, we strongly recommend you to read this review first. In this review of the Hubsan Q4 we will go over the features, characteristics, pros and cons of this small drone.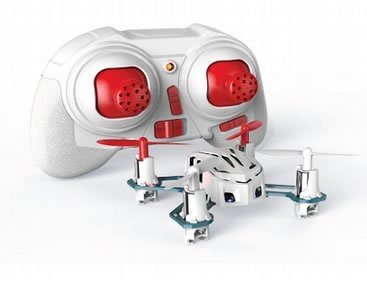 The Q4 is another product from Hubsan's nano series. The Hubsan Q4 is a very captivating nano-quad. Continue reading for a thorough review of the Hubsan Q4 drone.
So, going into the specs :
So Accessible : It is so easy to handle and you will be comfortable with the baby in the first flight itself. Although the body seems to give a very personating plastic look but the design and comfort makes it fly off.
Durability : It is agile which makes me amazed, because of its body structure and according to its size it is very much stable. Perfect for flight.
Full Package : It has everything which you will need to make the quad run in the long go, like you receive an extra set of propellers, charging USB cable and a brief & explanatory instruction manual.
PCB : i.e. Printed Circuit board : which specifies that flight controllers are in the structure itself. Electronic stuff are a part of it too and it comes with a full-structures lights. They pass an on and off signal very accurately and it is easy to find the device during the evening and night ride.
6 Axis Flight : The quad has a 6-axis of precision flight which makes it capable for twists-and-turns. The stunt lovers will find it bliss too. Specially, the up-and-down axis works very fine.
Flight Time: The time of flight is 5-min which comes to you in just a 20-min charging time, which is quite convincing.
Affordable: Pocket matters…!! So, it offers you quite promising features in a friendly price. So, if you come to BUY NOE button, no need to think again
Some features which are not perfect, but you can't demand them too in this price, model and specifications :
Battery blunder: You can't think of exchanging the battery and putting the first one in charging after a 5-6 min of amazing flight time as the battery is not removable.
Settling time: It takes about 2 min for the quad to make it feel okay in the up environment. As the flight time is only 5-min, so you can find it quite unapproachable. But the specs are enough to make you click on the buy button.
On a similar note, overview :
Although, The little propellers produce a weird insect like noise, and other people were all gathering around observing the quad. Still gratuitous to mention, others within the workplace presently were checking the online to shop for one also, these very little quads are extremely one thing quite sensible. This makes it such a convincing point that this nano-quad is worth buying.
It's additionally terribly powerful, as somebody WHO has ne'er had one in every of these before I had my fair proportion of crashes. I did have the great sense to chop power before blooming into the wall / floor / work colleague and also the quad has remained intact 🙂
These are a good toy to play with, nice and little thus you'll carry them in your pit box, or wear your table at work. I am extremely enjoying wiggling with mine, and it helps keep my thumbs exercised. Well looking at these features, I myself am tempted to go for this drone, gift it to my friends' childre & have bang fun. If you are still thinking, you can check over the reviews of quadcopters on our website to help you make a better decision in this regard & helo get the best drone at best prices.
Anyways, this quad is worth the small price tag. Just go for it!!