DJI Phantom 3 Review – There's something truly special going on in the realm of modern drones. Not only are we starting to see much more capable quadcopter drones armed with higher capacity batteries, stronger motors/propellers, and build qualities that use higher quality materials, but we're also seeing uses for drones that go above and beyond recreational fun and amusement. We are specifically talking about the DJI Phantom 3.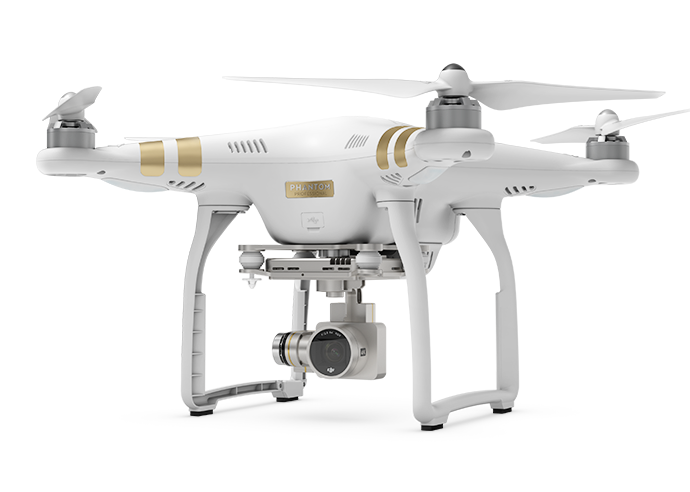 Work-capable drones are now becoming a reality too. Crop assessment/soil testing, environmental factor sampling, airborne drilling, residential surveillance, and more, is now something that everyday businessmen and women can get their hands on at an affordable price!
Below, we're going to be reviewing the DJI Phantom 3 quad drone, it's features, and how much better it is than previous Phantom versions. The DJI Phantom 3 is one of only a few drones in the marketplace that's a REAL step up in technological advancement from what we've been seeing previously.
Introducing The DJI Phantom 3 Review: A True Drone!
There's actually two different versions of the DJI Phantom 3 for sale. The Professional and Advanced. The only difference between the two is the camera type that's included. All other features listed below are included in BOTH Phantom 3 versions.
4K 12.0 Megapixel (Professional Version) – 4K in horizontal resolution, coupled with the additional vertical resolution results in a picture quality containing 8.3 million pixels. That's about four times as many as a standard HDTV. You get 24-30 frames per second of video capture, and an f/2.8 lens with a 94 degree field of view to eliminate any possibility of distortion. The cost of the DJI Phantom 3 Professional is $1,300.
OR
12.0 Megapixel 1080P HD (Advanced Version) – This second purchasing option features a slightly lower resolution camera that records at 24-60 FPS, and is designed for people that don't want to spend the $1,300 asking price for the 4K camera version. The price tag drops on the DJI Phantom 3 (Advanced) when it includes the 12.0 Megapixel 1080P HD camera, instead of the 4K 12.0 megapixel camera, to a much cheaper price tag of $999.
3 Axis Stabilized Gimbal – The 3 axis gimbal means you'll never be at a loss in adjusting camera angles to get the perfect picture. The gimbal features a stabilization system that prevents any possible photo problems, no matter what kind of shaking/jostling is going on, due to wind turbulence or flight control issues.
LiPo 4S 4480 mAh Intelligent Flight Battery – The battery itself is capable of a total of 23 minutes of uninterrupted flight per charge. Buying multiple batteries and a multi-port charger works great to extend flight time ability of the Phantom 3.
GPS Module – The GPS flight control module on the DJI Phantom 3 is much more fine-tuned and upgraded than previous versions of the DJI Phantom series, like the Phantom 2 and Phantom 2 Vision+. The Phantom 3 is able to lock onto satellites fast and with precision, and thusly responds to flight commands better as well.
Inertial Measurement Unit (IMU) – The Inertial Measurement Unit includes a 6 axis gyroscope and accelerometer that's able to record very slight changes in tilt/movement. It's able to make adjustments internally to compensate for these changes.
Brushless Motors With Electronic Speed Controllers (ESC) – ESC's control the brushless motors on the DJI Phantom 3, ensuring that vital input is relayed to the controller, as well as sending commands back to the motors.
Vision Positioning Technology – When you encounter a flight area where you're unable to acquire a GPS signal, the DJI Phantom 3 will use Vision Positioning to scan the ground, using ultrasonic sensors. These sensors work not only in GPS-free areas, but also in areas where GPS doesn't apply, such as indoor and low-to-the-ground areas.
Full Color Screen 6000 mAh LiPo 2S Remote Control – The remote control features a vivid full-color screen and a 1.2 mile (2 km) range. It includes a USB and micro USB port to give you additional expansion ability, as well as an ergonomic design to provide comfort during long flight periods.
DJI Pilot App For iOS And Android – The DJI Pilot App gives you a 720P HD view displayed right on your smartphone or tablet. This app works with iOS 8.0 or later and Android 4.1.2 or later. It allows you to control the camera, change flight settings, and more. This is just one more way that the DJI Phantom 3 gives you more options for flight control than competing quadcopters that cost nearly the same amount.You also get live video streaming via YouTube, where your collection of fans can see your latest video adventures. It streams to YouTube at 720p resolution with nearly zero lag.
Micro SD Card Slot For Memory Expansion – You can purchase additional Micro SD cards up to a capacity of 64 gigabytes. That's plenty of storage ability, even for professional grade applications.
Control Distance / Max Flight Speed – Although current United States FAA rules require that drone pilots keep their quadcopters within a Line Of Sight (LOS) distance, the DJI Phantom 3 can feasibly fly about 1.5 – 2 km distance from the controller itself. The max flight speed comes down to 16 meters per second, which is 35.79 MPH when you calculate m/s into MPH.
The DJI Phantom 3 Will Surprise You!
Share Your Videos At SkyPixel – A vibrant online community provided to you free of charge, sponsored by the DJI staff/team. At SkyPixel, you can upload photos and videos in all kinds of interesting categories, like; Nature, Travel, Lifestyle, Wildlife, Sport, and more!
DJI Phantom 3 Review: Our Verdict
Considering the DJI Phantom 3 review is such an amazing drone, you'd really expect to pay way over the $999 that Amazon is asking for it. The closest competitor to the DJI Phantom 3 is the Yuneec Q500 Typhoon, which costs $1,300, and offers basically the same thing as the DJI, but the Phantom is $300 cheaper. By buying the Phantom 3, you're saving A LOT.
Do some online comparison shopping for yourself, read various DJI Phantom 3 reviews, and you'll come to the same conclusion. With the Phantom 3, you're getting an amazing camera (either version you choose), a 3 axis gimbal, a super impressive flight distance range and battery capacity, an advanced GPS/Vision Positioning System, remote control with full-color screen, iOS / Android flight control compatibility, as well as a large assortment of other advancements that other quadcopters on the market, even though they cost nearly the same, don't offer AT ALL!
Our opinion upon reviewing the DJI Phantom 3 is that it's one of the best deals we've ever come across as far as "bang for your buck" is concerned. We're giving the DJI Phantom 3 drone 5 out of 5 stars all the way.