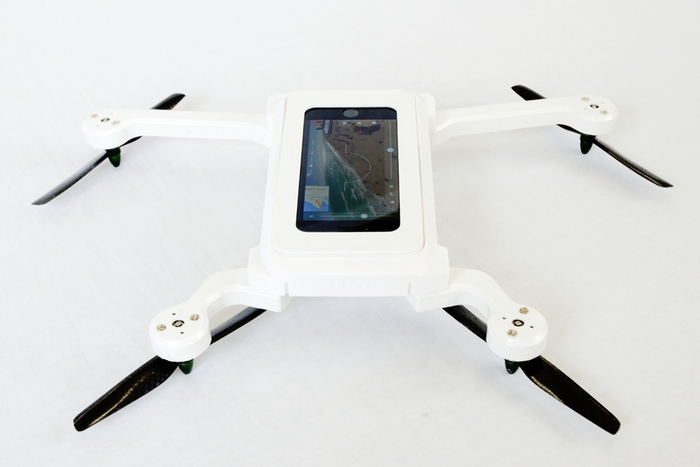 Ever thought of turning your smartphone into a quadcopter? While the idea might sound a little quirky at first, it actually does make sense. PhoneDrone represents a project that has recently launched on Kickstarter, promising to turn your phone into a drone with the help of an exoskeleton attachment that you can mount your smartphone on – to help it fly.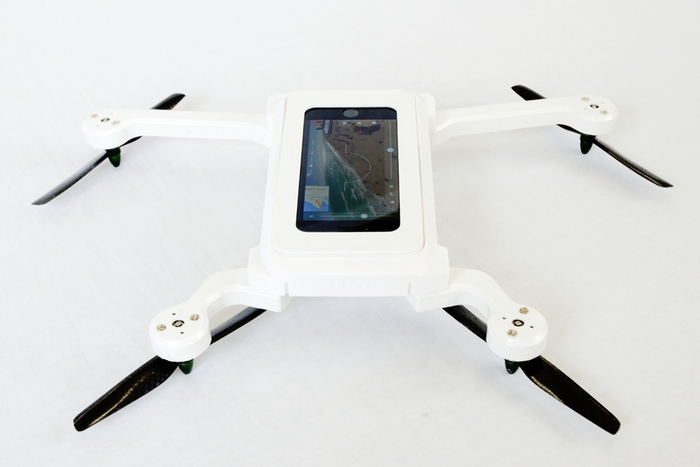 With this in mind, the idea does sound a little odd at first, as no one in their right mind would be okay with strapping a $500-$700 phone onto a set of propellers and have it fly around, mostly due to the fact that gravity is known to win quite a lot. With that said, the chances of crashing the quadcopter along with your phone are quite high, even if you're an experienced pilot.
The PhoneDrone is a Brilliant Idea
However, the idea itself is also quite brilliant, mostly due to the fact that the company has managed to create a drone at just $250, which is incredibly cheap considering the datum that most decent drones cost more than $500. In the case that you're wondering how this is possible, you'll need to know that most quadcopters have a lot of technology under their hood. From a couple of strong engines, to a Bluetooth transmitter, a Wi-Fi radio, on-board computer or high-resolution cameras.
The devices composing a drone represent the main reason why the price is so high. However, replacing all of the devices needed to fly a quadcopter apart from the actual body, motors and propellers with your smartphone may be a good way of radically reducing the costs.
With this in mind, xCraft crafted a device that smartly takes all of the computing power that your phone can provide together with its sensors in order to make it flyable, but also quite safe. The PhoneDrone is simple to use, once you mount the exoskeleton up on your smartphone, the device will only be able to fly autonomously using the smartphone as its brain. Controlling it and flying it in other directions, such as the auto-follow feature, would require the use of a second smartphone, which can then be used as a controller for the device.
xCraft is Seeking $250,000 in Funding
After being introduced on Kickstarter, the firm as of today has already raised more than $82,047 in pledges, out of its goal of $250,000, which they'll surely reach in the case that they continue raising money like this. While all of the early bird rewards have already been taken, anyone interested should still be able to purchase the PhoneDrone at $250, which is an amazing price considering the fact that you're purchasing a quadcopter drone after all.
It's important to remember that the device hasn't yet been tested by many, and that its reliability together with its flying abilities can still be questioned. However, chances are that in the next couple of weeks we'll be able to see the PhoneDrone prototype in action from more angles, and this will definitely shine some more light onto this project, that is both exciting, but also quite odd. Bookmark our drone reviews section to stay up to date with the latest information about the PhoneDrone.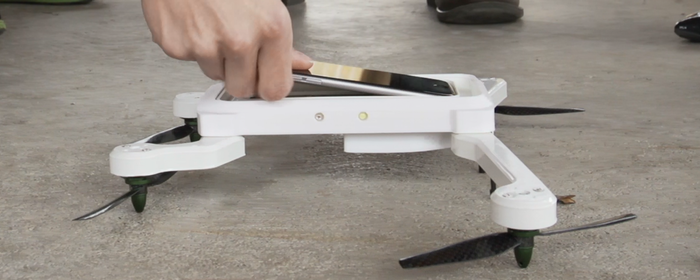 When Will The PhoneDrone be Released?
As we previously mentioned, the PhoneDrone release date is still unclear. In fact, we still don't even know if they will be able to raise the $250,000 they are seeking to continue with the project. But they're aiming to have the PhoneDrone released by November 2015 if they get funded (successfully).
Do you think they will be able to get the $250,000 funding they are seeking to make the PhoneDrone a reality? Drop us a comment and let us know your thoughts about the PhoneDrone idea.