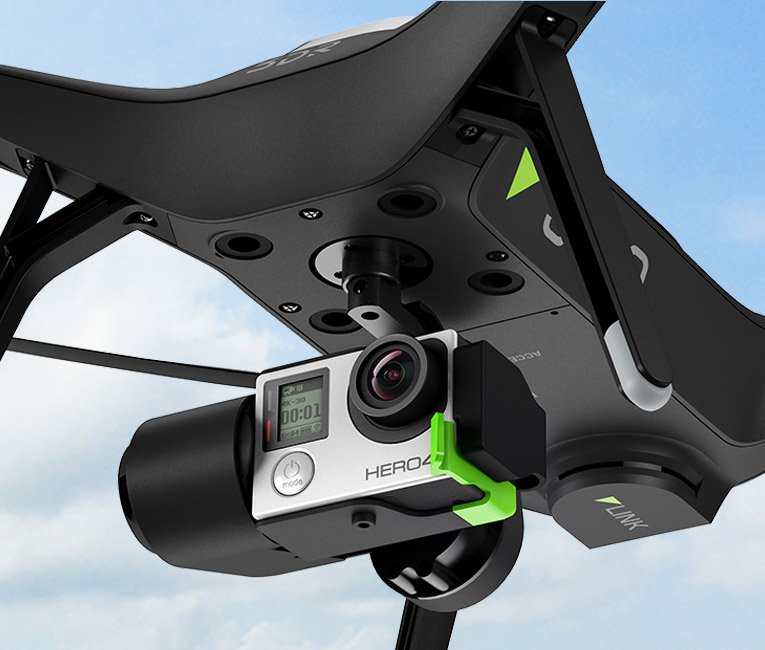 If you're looking for a quadcopter to attach a GoPro camera, then the 3D Robotics Solo is the best choice for you.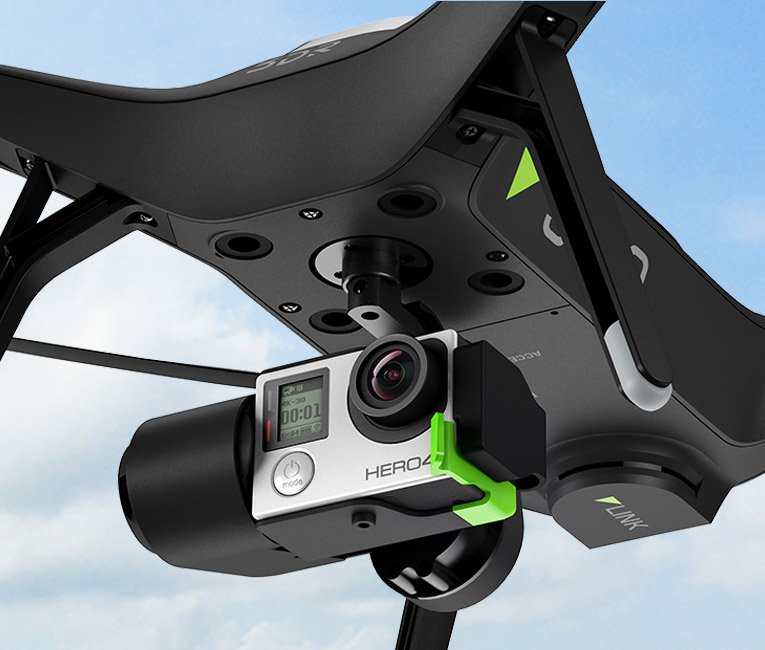 This amazing piece of technology comes with an optional device known as the Solo Gimbal, which has a three-axis motorized camera stabilizer. This is the product of two years of hard work and co-development between GoPro & 3D Robotics. This partnership hasn't only led to the development of a full in-flight camera on a quadcopter, but it has also allowed users to stream low-latency HD video live directly onto their mobile devices.
3D Robotics Solo Quadcopter Has its Own Brain
The 3D Robotics CEO & Co-founder Chris Anderson said, "What Solo introduces are two new technologies for deep integration with GoPros. The first thing, is because it has an on-board Linux computer, it's capable of running apps for computer vision for object tracking, artificial intelligence and other things. And because it also has a long-distance broadband connection, it's able to transmit not just the HD video, but flight data and telemetry."
This is something which has helped the Solo overcome the Wi-Fi problems that users currently face, and this has been positively received by all. The Solo Gimbal does this by tapping into the Hero port. This will give you a whopping 800 meter range and will also allow you to control various functions of the camera, like turning it on, changing shooting modes, and even settings. Plus, you get live HD video, something that no other quadcopter drone currently offers.
Another thing you won't find in any other quadcopter is the two Linux computers. That's right, there's a computer in the 3DR Solo quadcopter and one in the controller as well. Anderson believes this will allow people to take scripted camera movements, just like Hollywood, and change them to software.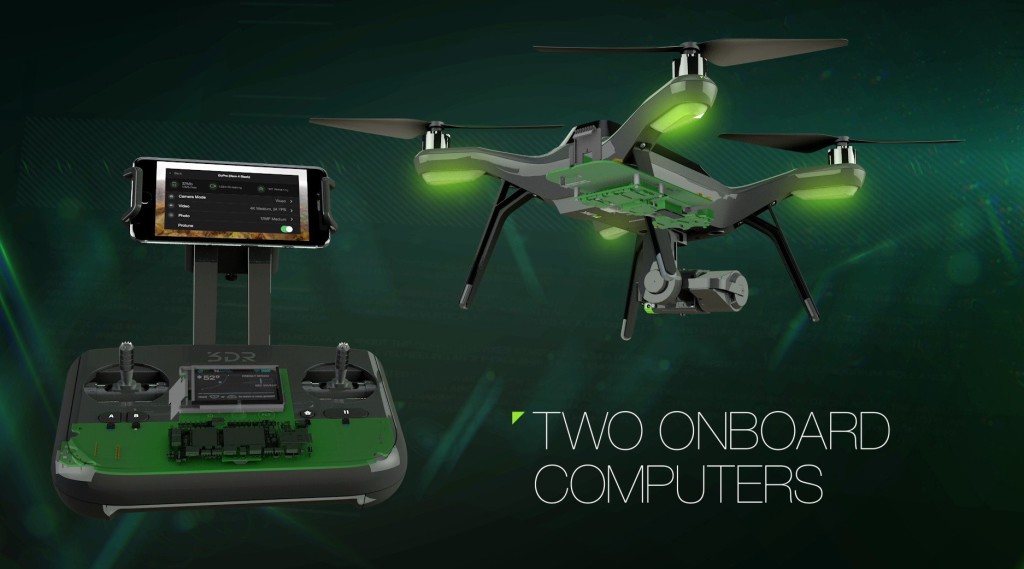 "Basically, we have shots that are almost impossible for a human to fly, or to fly well with any consistency, so we let the software do the work. They are shots you can initiate at the press of a button. For the first time, you don't have to be behind the camera, you can be in front."
He also said that while there are a few drones that have a two-operator model in which one person controls the drone and the other person controls the camera, with the 3D Robotics Solo, you have the potential for even a zero-operator model.
"It will keep the camera focused on you, it has an understanding of what good aesthetics are, what a good shot means from an artistic perspective." You can consider setting up virtual rails, giving the drone a good flight path and it will then use GPS, as well as object detection and tracking to follow subjects. However, the only problem is with the sense-and-avoid technology which the Solo quadcopter lacks.
Create Your Own Paths with the App
You will only get a few scripted shots initially, but as the platform improves, you will be able to download many additional camera paths as well. You can even create paths of your own. And you know what is the best part? All of this will be done in the app itself. It is a complete mobile experience in every sense of the word.
Even the 3DR Solo controller is optimized, as far as aerial photography is concerned. You are able to adjust the tilt control, tilt speed and the tilt position. The HDMI output allows you to connect to an external display, which means you can broadcast live as well.
Piloting has become much easier as well. Now there are dedicated buttons for taking off, landing, returning home and even pausing mid-flight. There are a couple of additional buttons that can also be defined by users.
Access GoPro Camera Settings with 3DR Solo App
The controller comes with a color display, allowing you to access flight information, remove any guesswork and even has haptic feedback to warn you of things like low battery. What's more important, this controller can work together with the iOS and Android Solo app. This app allows you to access the GoPro camera settings, as well as many other controls. The app will even log your flights, and if there are any problems, the app even has a function which allows you to submit a ticket right away. And if your drone is lost or gets damaged because of a system error, 3D Robotics will repair or even replace everything.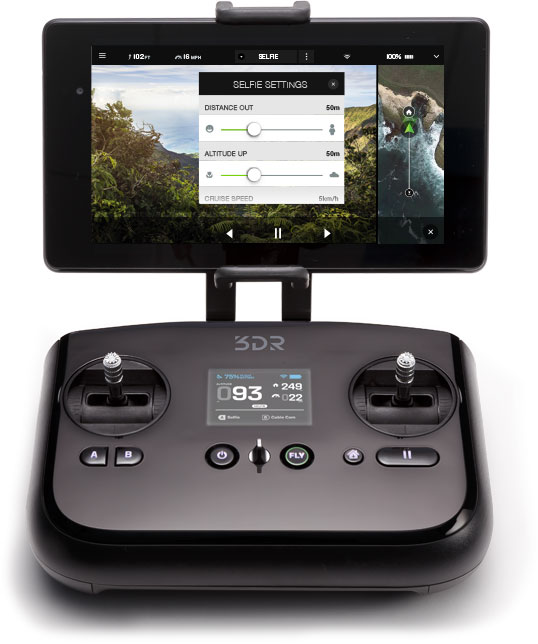 One last thing worth noting is that the DroneKit platform is open. "People have the ability to add apps to this at every layer: the drone, the phone and the cloud." Anderson said. "We're the only open platform out there. Our competitors have fantastic products, but they're not platforms."
"This is like the PC or the early days of the App Store," he added. "Who knows what these things will someday become. What we want to do is create a system by which other people can re-imagine the future of the drone and then act on them simply."
3D Robotics Solo Quadcopter For Sale
As Anderson mentioned above, there are quite a few quadcopters for sale, but they're not platforms. The 3DR Solo drone will be compatible with any new technology available in the future.
The 3D Robotics Solo quadcopter & controller are going to go on sale in May, and start at $999. You will also be able to buy the Solo Gimbal for an extra $400.