Walkera QR X350 GPS PRO Review – The Walkera QR X350 GPS PRO is another one of the popular drones we see in the market place that's in direct competition with drones in the same class, such as the:
DJI Phantom 2 Vision+
DJI Inspire 1
Parrot Bebop Drone
Blade 350 QX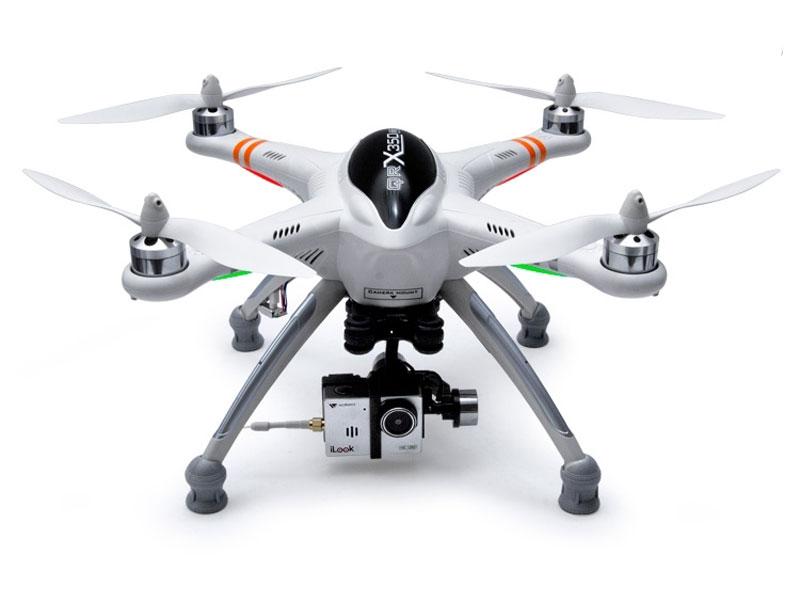 Now, when you stop to take a look at the price comparison, as well as how much more flight time the Walkera QR X350 GPS PRO offers, you can see how this drone option shines a bit above the rest. The cost to buy a Walkera QR X350 GPS PRO on Amazon is $800.
This price is higher than the Parrot Bebop ($500 retail), but below the Phantom 2 Vision+ ($1,169 retail). And, considering that it comes with camera equipment, a rotational gimbal, rugged build quality, First Person View controller, and a host of other includes like Return Home Landing and Intelligent Orientation Control, people are quickly discovering what a great deal the Walkera QR X350 GPS PRO is in comparison to competing quadcopters in the same class.
Walkera QR X350 GPS PRO Features And Benefits
Dimensions – 11 x 2 x 2 inches, weighs 2 pounds
Manual Flight Mode, Hold Position (Hover), and Return Home – This quadcopter isn't designed for total novices, and comes with 3 different flight modes.

br>
The Manual Flight Mode offers 100% freedom of movement, which is great for experienced drone pilots. The Hold Position, or Hover Mode, allows you to stabilize the drone in mid-flight and hold a specific GPS position. Finally, the Return Home Mode gives you the ability to hit just one switch, and the Walkera QR X350 GPS PRO will automatically return home and land safely, right where you originally took off from.

GPS Flight System – The GPS tracking system on this Walkera QR X350 GPS PRO quadcopter hooks up to multiple satellites at once, ensuring you always have a highly accurate and connected GPS.
Low Voltage Warning – In the event that you're flying the Walkera QR X350 GPS PRO and you aren't keeping an eye on the battery life, it comes with a low voltage warning system that alerts you when the battery is low.
IOC (Intelligent Orientation Control) – Walkera designed this drone around the simple premise that not everyone is a professional drone pilot. No matter what position the nose is in, the Intelligent Orientation Control forces the QR X350 GPS PRO craft to move in the stick direction you choose.

br>
For example, if the craft is in a spin, if you direct the stick to move right, it will still move right, regardless of the reckless spinning of the QR X350 GPS PRO drone itself.

Anti-Vibration Camera Mount – The Walkera QR X350 GPS PRO also comes with anti-vibration mounting that gives you a better quality video/picture when wind conditions are turbulent or less than favorable.
iLook Camera and Gimbal 2-D – The camera that comes with the Walkera QR X350 GPS PRO isn't the best out there, but it's suitable for people that don't need the higher functionality of additional megapixels and resolution. The included 2-D gimbal, which you have to keep in mind that not every aerial drone includes, gives you much better camera control.
GoPro Camera Compatibility – Not only does the Walkera QR X350 GPS PRO come with an included Gimbal controlled camera, it also has the ability for you to add a GoPro camera of your choice by installing it into the frame. The GoPro cameras offer higher resolutions and more megapixels than what the stock iLook camera offers.
Battery: 3S 5200mAh LiPoly Li-Po – Battery technology included with aerial quadcopters these days are designed with Li-Po technology, which provides far more discharge capability and power capacity in much more compact and lightweight battery packs. The Walkera QR X350 GPS PRO comes with this new Li-Po technology.
DEVO F7 Controller w/FPV – The DEVO F7 controller that comes with the Walkera QR X350 GPS PRO is accurate and responsive, and comes with the First Person View screen so you can see what the camera sees while flying, displayed conveniently on the controller itself. This is quite a "step up" from earlier drone controller technologies that simply included the joysticks and not much else.
25 Minute Flight Time – With every charge up of the 3S 5200 mAh battery, you get a total of 25 minutes of flight time, which is far beyond what drones like the Parrot Bebop, Parrot AR, and DJI Phantom 2 Vision+ can offer. For this ability alone, many drone enthusiasts are making the Walkera QR X350 GPS PRO their drone of choice.
2 Km Control Range – This is quite an impressive amount of distance to be able to fly in. 2 Km is more than enough range for most recreational enthusiasts.
Helpful Notes About The Walkera QR X350 GPS PRO
One of the great things about the Walkera QR X350 GPS PRO is that it comes with camera equipment pre-loaded, as well as providing you with the ability to install higher quality GoPro camera equipment to make your experience even better. If you're unhappy with the performance time of the 5300 mAh battery, you can purchase any higher mAh compatible battery to extend your flight times.
This is quite a fast aerial quadcopter, and the Walkera QR X350 GPS PRO is quite durable. Mild crashes and bumps into objects doesn't phase the Walkera QR X350 at all, which is a comforting fact, given that the cost of this drone is set at right around $800.
The Walkera QR X350 3D makes a great addition to any drone collection, and if you purchase multiple batteries and a multi-port charger, you can have all-day fun with the exceptional flight time the Walkera QR X350 PRO provides.
Couple that with additional propeller blades, a prop balancer, blade guards, and other optional accessories, and you'll be all set to enjoy non-stop fun with your Walkera QR X350 GPS PRO. Based on the 4.5 out of 5 star Amazon review score, most people who own this QR X350 GPS Pro drone are very happy with it overall.